16 Apr

An occasion is not required to show appreciation to the person who has been the rock of your life: your mother. Even though you'll never be able to repay her for all the love, care, and support she's shown you, a thoughtful gift can show her how much you value her in your life and everything she's done for you.
In this blog, we have gathered wine gift ideas for your mom because nothing is as time-honored in gifting tradition as wines. Rushed with finesse, each of these gifts for mom brings out a unique wine experience and gives you the liberty to choose what fits your mum's preferences the best. Ideal for celebrating your mom's birthday or anniversary or expressing your gratitude.
From a crisp white wine pairing to a bespoke sparkling wine bottle to a classic red wine and cheese spread, there's a lot to assist you to accelerate your gift-giving in style. Best if she enjoys wine, thrilling if she is a novice!
So read on to explore ideas for wine gifts for mom and ideas for champagne gifts for mom that would envelop your mother in all the love and affection that you have for her.

1. Veuve Clicquot Rose & Godiva Chocolates Ideas Of Gifts for Mom
A perfect gift for a mom who likes her wines with a bit of blush, dazzle and has a sweet tooth too. This gift set pairs famed Veuve Clicquot Brut Rose with a hefty box of chocolates by Godiva, and together they create a wine-sipping experience that's heaven-felt.
Speaking of bubbly, it has a distinct pink color, which shines through with its persistent bubbles shooting up when poured in the glass. On the nose, it is delicate, and on the palate, its liveliness is simply unmatched.
When savored with these Belgian-styled Godiva chocolates, your mom will swiftly slip into an odyssey of the cocoa world, rushed with milk, dark, and white chocolates of numerous textures and flavors, including caramel, praline, fruits, and nuts.
2. Caymus Red Wine and Cheese Ideas Of Gifts for Mom
Ask someone for wine gifts for mom, and you can bet they won't miss a wine pairing that has red wine and cheese in it. Here, we introduce our best-selling wine gift basket for mom, whose beauty is simply hard not to exaggerate.
It pairs a bold cabernet by Caymus Vineyards with scrumptious delights, all stacked in a lovely basket that is hued beige, has an overarching handle, and is bedded with paper shreds. It is a perfect present if your mom's wine preferences are for full-bodied, complex red wines with subtle sweetness.
The wine is a real ode to Napa's exceptionality for producing the best cabernet expressions in the globe and is centered with a spread that will let your mom unwind in style. It is a real indulgence that can't be finished off in a day, from a hefty sausage to crackers, chocolates, cheese, and more.
3. Dom Perignon Champagne With Gourmet Delight Gift Basket For Mom
This wine gift basket for mom is nothing but a real indulgence for mothers who love sparkling wines with a dash of opulence and munch-loaded snack pairings. Here, the most baller, Dom Perignon Brut champagne is coupled up with a bag full of snacks that won't just crush loud but also clash well with the bubbly.
This vintage champagne delivers a wine experience as if one is tasting stars, just as its founder, Dom Perignon, felt himself. It turns a glass pale yellow, with a crystal shine borrowed from its delicate bubbles and pecks the nose and palate with its rich, creamy, and velvety texture.
Its effervescence, acidity, dryness, and versatility make it the perfect go-to for paired-up snacks that are all loaded with munch, saltiness, and savoriness. There is a lot to unwrap in these gifts for mom, from olives to cookies, crackers, cheese spread, and more.
4. Josh Cellars White Wine Gifts For Mom
This wine-inspired assortment is for all the white wine loving moms out there. Gift it to your mother if she has a love for white wines, and she can later savor it in her own company, organize a cozy family brunch, or host a gathering with friends.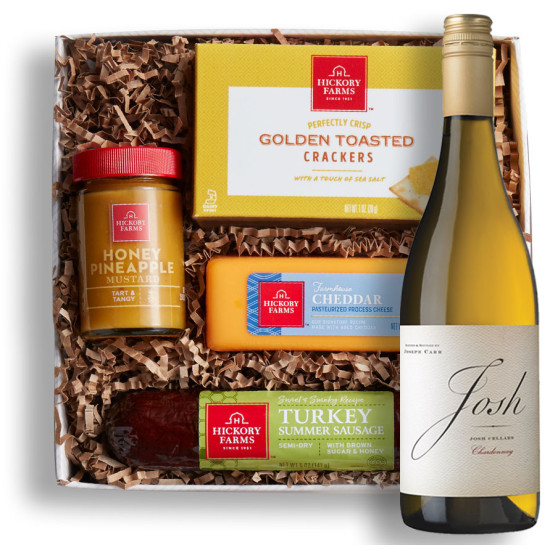 In a sturdy box, layered on the inside with thick shreds, there is a Californian white wine by Josh Cellars, paired up with savory gifts for mom. Each moment spent with this wine pairing is splendidly enjoyable, and I bet your mom will mention often how greatly she cherished it.
The wine pours out a bright, golden color, a portfolio for its quality, the Chardonnay grapes used, and a tantalizing sensory experience. On the nose, there are scents of ripe apple, pear, and oak, while the palate is rich and creamy with flavors of vanilla, baked apple, and butterscotch. Pairs perfectly with turkey summer sausage, chewy cheddar cheese, honey pineapple spread, and golden-toasted crackers.
5. Pick From Bespoke Ideas Of Gifts For Mom
Last but not least, a bespoke way of showing your mama how much you care about her. You may now express your emotions in a classy, unique way with our "personalized bottles" and "hand-painted bottles" options.
A. Personalized Gifts for Mom
Send a decoupage-inspired wine or champagne bottle with a two-line unique message using our "personalized bottles" option.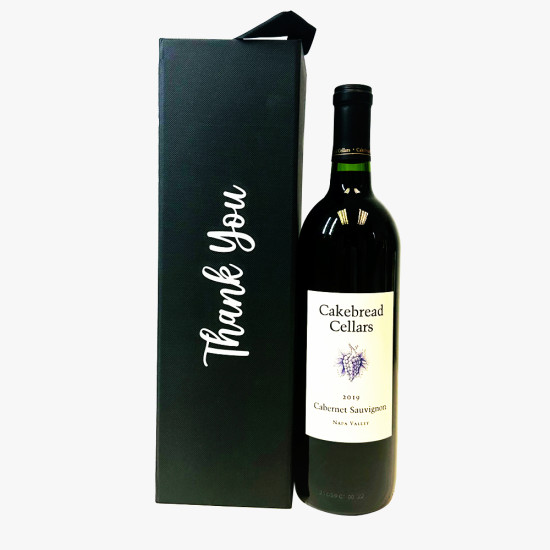 You can personalize your bottle with a short message on the first line and the name of the recipient or the date of the occasion on the second line.
For instance, you may say "Heartfelt Birthday Wishes Mom, 23-07-1976," "Happy Mother's Day, Mumma," or "Toast To The Best Mom."
B. Hand Painted Bottles Gifts for Mom
We offer a "hand-painted bottles" selection for those looking to give sparkling wine gifts for mom with an artistic yet personalized touch.
You may have any champagne or prosecco bottle customized with any design you like.
The second line might be dedicated to the name of the recipient or the date of the event, while the first line can be used for a brief message.
You can say things like "Happy Anniversary, Mum," or "Love You Forever, Mom."
Conclusion
With any luck, this blog post will help you find the perfect wine gifts for mom. Choose a wine gift for mom that will most impress her and become a part of her most fond memories forever. Whether you are wishing to express gratitude or embrace one of your mom's special days, there is something vinous that she will like.
On our website
, you'll find a plethora of wine and champagne-themed gift baskets for her, despite their high-end appeal, are nonetheless within everyone's price range. Not only that, but each wine gift is put in a durable carrier and is beautifully packed. You can also buy gifts for father and for parents special moments such as birthdays, and anniversaries.