21 Oct

The pops of champagne are like sirens, heralding the arrival of celebration and igniting the air with anticipation. No doubt, a bottle of bubbly is a perfect addition with its finesse and effervescence, whether the occasion is of quality time sharing, hearty indulgence, or commemorating a milestone with top champagne gifts. However, the world of champagne is vast and diverse, offering a range from renowned classics to hidden gems waiting to be discovered.
To help you discover popular champagne brands and make the perfect choice, we present this blog. It not only lists top-selling champagne brands but also underscores how each stands out in the popular champagnes list with distinct qualities, price range, iconic bottles, and suitability. From first to last, each brand has captured the hearts of connoisseurs and novices alike with its rich history and exquisite flavors, making it the face and benchmark of champagne craftsmanship.
1. Moet & Chandon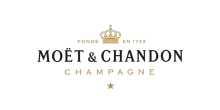 When it comes to popularity, few champagne brands can rival the craze for Moet & Chandon. Not only is Moet the most popular champagne in the world, but it is also among the top-selling champagne brands, with millions of bottles sold each year, adding a touch of magic to countless celebrations around the world.

With a long history that dates back to 1743, the brand has been a pioneer in the production of champagne and is devoted to producing champagnes of the highest caliber. On top of that, it produces various types of champagne, with each style exuding an unparalleled charm achieved through skillful blending, harmonious balance, alluring packaging, and an ambiance that is luxurious, celebratory, and victorious.

Price Range: $50-$100

Suitable For: Moet & Chandon champagnes are perfect for celebrations like weddings and New Year's Eve, catering to those who appreciate a timeless, well-balanced bubbly.
Popular Champagnes From Moet & Chandon:
2. Dom Perignon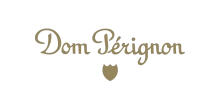 To your surprise, the Dom Perigon champagne brand is an offering from the Moet & Chandon champagne house, but their individual craftsmanship is poles apart. Named after Dom Perignon, a Benedictine monk who pioneered and made significant contributions to the world of champagne-making, the brand embodies his preexisting passion, innovation, and dedication. Dom Perignon champagnes are a true symbol of luxury, catering to enthusiasts of opulence. This was further evidenced when they were chosen as the champagne of choice at Prince Charles and Diana's wedding in 1981.

What sets Dom Perignon apart and makes it one of the popular champagne brands is its commitment to producing only vintage expressions, resulting in rich, complex flavors with typically notes of toasted almond, brioche, and a creamy texture. Furthermore, Dom champagne bottles are exclusive, with only 43 vintages released in the past 100 years, and each vintage accounts for approximately 200,000 cases.

Price Range: $150-$400

Suitable For: Dom Perignon champagnes are perfect for those special celebrations where only the best will suffice. They are especially appreciated by those with a taste for luxurious, nuanced bubbly.
Popular Champagne Names From Dom Perignon:
3. Veuve Clicquot

When it comes to listing popular champagne brands, one name that can't be missed is Veuve Clicquot, a brand with a renowned reputation for champagne-making spanning over 250 years. This champagne producer began with a vision to "cross borders" and has stood the test of time, thanks in no small part to its leading figure "Madame Clicquot". She persistently transformed challenges into opportunities, crafting a timeless story of resilience, innovation, and entrepreneurship.

Today, Veuve Clicquot Champagne House continues to embody this spirit of producing high-quality that are sought-after, even by the elite. Their offerings span a wide spectrum of signature styles, each snuggled in trademarked, artistically made yellow packaging.

Price Range: $50-$100

Suitable For: Veuve Clicquot champagne is perfect for those who enjoy the bolder side of champagne, making it a great choice for celebrations with family and friends.
Popular Champagnes From Veuve Clicquot:
4. Louis Roederer

Louis Roederer is a renowned name in the world of champagne, celebrated for its centuries-old tradition of crafting exceptional sparkling wines. Established in 1776, the brand has withstood the test of time, consistently releasing champagnes of exceptional quality, elegance, and finesse across generations. In addition to their meticulous craftsmanship and innovative techniques, the brand places a strong emphasis on stringent vineyard practices, even owning a significant portion of its vineyards to ensure a steady supply of high-quality estate-grown grapes.

Today, every bottle of Louis Roederer reflects their pursuit of excellence and artistry, making it one of the most popular champagne brands and favorites among connoisseurs and collectors alike.

Price Range: $60-$300

Suitable For: Louis Roederer champagne is the perfect choice for formal occasions, intimate gatherings, and wine enthusiasts who appreciate a well-balanced, classic taste in a bubbly.
Popular Champagne Names From Louis Roederer:
5. Billecart Salmon

Billecart Salmon, another gem among popular champagne brands, boasts a legacy steeped in history and a steadfast commitment to crafting distinct champagnes. Founded in 1818 by Nicolas François Billecart and Elisabeth Salmon, this brand represents a groundbreaking collaboration between two families driven by their zeal for winemaking. Together, they bestowed upon the world cuvees that are elegant, refined, and timeless.

The brand's artisanal approach and family-owned ethos shine through in every bottle, exuding captivating aromas, a delicate taste, and a lingering finish. This makes Billecart Salmon a beloved choice among bubbly enthusiasts, chefs, sommeliers, and aficionados who are passionate about their quest for exquisite champagne.

Price Range: $50-$100

Suitable For: Billecart Salmon Champagne is perfect for those who prefer a quieter, more refined champagne experience, making it best-suited for romantic dinners and intimate celebrations, such as housewarmings and intimate anniversaries.
Popular Champagnes From Billecart Salmon:
6. Krug

Krug stands as a paragon of excellence and innovation in the world of sparkling wines, with expertise spanning over six generations. Established in 1843, this popular champagne brand is a prominent figure, known for pushing the boundaries and weaving the thread of consistent craftsmanship and quality throughout the years.

Each bottle of Krug is a blend of multiple vintages, artfully composed to create a harmonious and distinct expression of the champagne terroir. It is aged for at least 10 years, allowing each drop to shower the senses with rich complexity and nuance. Krug's dedication to precision and its uncompromising standards have earned it legendary status, continuing to captivate the discerning palates and hearts of connoisseurs.

Price Range: $150-$300

Suitable For: Krug is a champagne for the true connoisseur, perfect for those who savor the intricacies of a complex champagne. It's also an ideal addition to special occasions like weddings, graduations, and promotions that demand the best in sparkling wine.
Popular Champagne Names From Krug:
7. Taittinger

Rooted in family tradition, the Taittinger champagne brand is one of the oldest champagne houses in existence and has been famed for producing bubbly with the refined essence of the Champagne region since 1734. The house is prestigious and best known for owning some of the most exceptional vineyards. This ownership not only allows its champagnes to shine with the best reflection of their terroir, but it also showcases the skillful blending practices of the brand, gracefully combining Chardonnay and Pinot Noir grapes.

Each bottle of Tattinger champagne is celebrated for its finesse, luxurious appeal, and timeless sophistication, all enveloped in a delicate, light, and fruity character.

Price Range: $70-$100

Suitable For: Taittinger is a refreshing addition to the line of popular champagne brands, and its champagnes are perfect for those who prefer a light and airy champagne experience. It's well-suited for a variety of celebrations, from weddings to casual gatherings.

Popular Champagnes From Taittinger:
8. Ruinart

Ruinart is a champagne brand with a heritage as rich as the effervescence in the bottles. Nicolas Ruinart founded it in 1729 with the visionary foresight to recognize the potential of sparkling wines in the Champagne region, and it proudly holds the title of being the oldest champagne house in existence.

Ruinart champagnes are popular due to their three centuries of history, most notably for serving a tranquilizing elegance, freshness, and finesse with Chardonnay-dominant expressions deliberately made and aged in their unique centuries-old chalk cellars. The Ruinart Blanc De Blancs, a flagship offering, is a testament to their dedication to the purity and expression of the Chardonnay grape.

Price Range: $70-$100

Suitable For: Ruinart Champagnes are ideal for celebratory occasions, where their heritage and elegance have the perfect chance to shine. They are also well-suited to pair with lighter dishes and seafood at parties, receptions, and intimate gatherings.
Popular Champagne Names From Ruinart:
9. Nicolas Feuillatte
Nicolas Feuillatte is a well-respected champagne house known for its commitment to quality and consistency. Unlike most of the world's beloved, centuries-old champagnes, this is a relatively young brand, with its blue label launched as recently as 1976. Surprisingly, the grapes used to make Nicolas Feuillatte champagne come from a network of 4,000 vineyards, appealing to a wide range of blends and palates. In addition to this adaptability, their cuvees span the spectrum from affordable to luxurious, making your upcoming celebrations exquisite affairs.
Their popular brut champagne, Nicolas Feuillatte Brut Réserve, is a crowd-pleaser with its harmonious blend of Chardonnay, Pinot Noir, and Pinot Meunier grapes.
Price Range: $50-$100
Suitable For: Nicolas Feuillatte Champagnes are perfect for those seeking a more modern and approachable Champagne drinking experience.
Popular Champagne From Nicolas Feuillatte:
10. G.H. Mumm
Founded in Reims in 1827 by three wine-passionate brothers, the G.H. Mumm champagne brand has upheld a tradition of producing lively and celebratory cuvees. G.H. Mumm is celebrated for its dedication to crafting bubbly with an emphasis on Pinot Noir grapes, which provide richness and structure to the blends. Moreover, these popular champagnes are true icons with their signature red ribbon design, and they never miss an opportunity to fit the luxurious vibe by regularly appearing on Formula 1 podiums and sponsoring luxury sporting events.
Furthermore, they are considered quintessential gastronomy champagnes by chefs and culinary experts due to their long-standing relationship with haute cuisine and their ability to pair with a variety of foods, including their signature G.H. Mumm Cordon Rouge Brut champagne.
Price Range: $50-$60
Suitable for: G.H. Mumm Champagne is perfect for celebrating achievements and milestones, making it a go-to choice for graduations and promotions.
Conclusion
In conclusion, the world of champagne is a dazzling tapestry of history, craftsmanship, and celebration. Each of the popular champagne brands we've just explored stands as a testament to the artistry and dedication that goes into crafting these magnificent effervescent-rich champagnes.
From the timeless charm of Moet & Chandon to the lavishness of Dom Perignon, the boldness of Veuve Clicquot, the classic beauty of Louis Roederer, the refinement of Billecart Salmon, the perplexity of Krug, the smoothness of Taittanger, the legacy of Ruinart, the versatility of Nicolas Feuillatte, and the celebratory spirit of G.H. Mumm, there's a brand in this popular champagnes list to suit every occasion and palate.
At DC Wine & Spirits, Browse and Buy Popular Champagnes Effortlessly
Now, it's time to elevate your celebrations by exploring our store's wide collection of popular champagne brands and bottles. With our seamless champagne delivery, you can have these popular champagnes hassle-free received and sent right to any doorstep in the USA, except PO boxes and APO addresses.

What's more, each champagne bottle's allure can be enhanced with a personal flair using our personalization options of hand-painting of adorable designs and custom-printing of personal messages and business logos.
Furthermore, you can craft the best-suited food and champagne pairing by pairing any bottle from these popular champagne brands with our variety of scrumptious gift baskets, sets, and boxes. Let's raise a toast to unforgettable celebrations with the finest champagne—explore our store today!