16 Nov

Posted By
0 Comment(s)
121 View(s)
Christmas is around the corner and DC Wine and Spirits have some beautiful wine basket gift ideas for you. Well these wine gift baskets are hand selected from all around the world to serve you with the best.
With wine and spirits gift ideas to give on this Christmas you will no more be confused in what basket to buy as you get to choose from the finest, exclusive and gorgeous collection of wine baskets. We have online delivery options available for you which gives you doorstep delivery.
All we need for online delivery is the delivery address, shopping for wine gift baskets has now made it easy for you and is made just a click away.
Christmas Gifting easy with DC Wine and Spirits:
We have everything you need for your Christmas gifts. Please take your time to visit our special Christmas Wine gift basket collection and the beautifully decorated baskets with numerous designs and colors matching the Christmas theme so that you and the person receiving the gift feel the vibe.
Christmas is considered to be one of the most awaited festivals. Majorly it revolves around kids since they are so much fascinated by Santa Claus since they await for their gifts. Also, the elders participate by exchanging gifts on this auspicious festival with their loved ones, feasts are hosted as per traditions and a full family-friends time gathering is celebrated.
This is a festival of unity and togetherness since we do think to re-join our families on Christmas.
A few popular Wine gift baskets are:
1. Duckhorn Vineyards Napa Valley Gift Set
It comes in a beautiful cart shaped gift basket and includes some finest cookies. The beauty of this gift basket is its basket since it gives you an attractive and handmade look.

2. La Crema gift basket:
Well, this sweet gift basket has ginger biscuits, wine and cheese biscuits and much more .
3. Caymus Cabernet Sauvignon Gift Basket: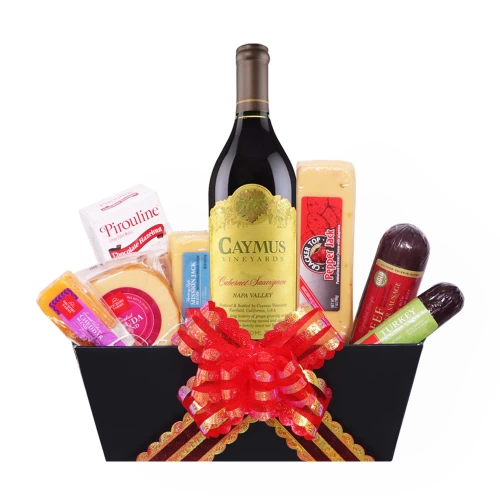 With a variety of gourmet delights introducing our Caymus Cabernet Sauvignon Gift Basket . Our gift basket comes with a variety of flavored rich Godiva chocolates
4. Justin Cabernet Sauvignon Gift Basket
We have customized this Justin Cabernet Sauvignon Gift Basket and will deliver it safely with a personalized message shared by you. This gift basket is refined and a perfect suit to your gifting needs.
5. Josh Cellars Gift Basket


Our handmade collection of Josh Cellars Gift Basket, personalized and customized as per your requirement. We deliver these gift baskets at your doorstep.
6. Silver Oak Alexander Valley Cabernet Sauvignon Gift Basket
Pay special attention to your loved one's occasion by gifting them a selective collection of Silver Oak Napa Valley Cabernet Sauvignon 2014 Gift Basket. The gift basket comes in a hard cardboard box, we decorate the box with yellow frills which gives it a glowing look.
7. Stags' Leap Gift Basket
Stags' Leap Gift Basket and make your gifting easy. Stags' Leap Gift Basket includes finest quality ginger biscuits, smoked almonds & much more. We decorate this gift basket for you with sunshine, glowing yellow colored frills.
8. Cakebread Cellars Cabernet Sauvignon Gift Basket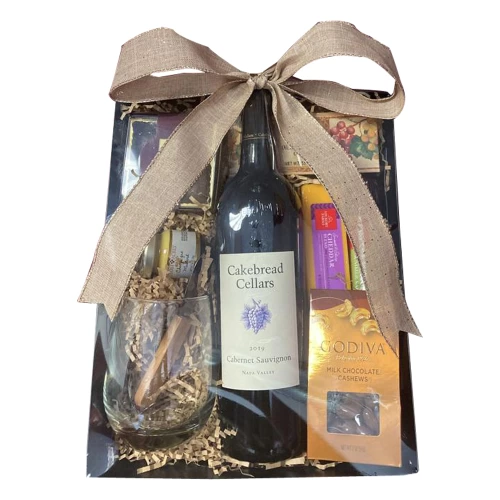 The gift basket is beautifully put together in a strong black matte gift box. It is then bedded with shreds of paper to make the arrangement tidy and to secure the items. A cute bow attracts attention, while the attractiveness of the box itself is difficult to resist. The centre piece of the basket is a cabernet from Cakebread cellars. It's a ruby-colored wine made from Cabernet Sauvignon grapes grown in Napa Valley, California. It emits an alluring aroma of black cherry, cassis, vanilla, and oak. And the palate is equally impressive with dark fruit, chocolate, and spice flavours.
9. Meiomi Pinot Noir Gift Basket
Discover the flavorful wine gift baskets, start from our Meiomi Gourmet delight gift basket and much more stored in for you. This lavish collection of Meiomi gift baskets is exquisite and also is food-friendly.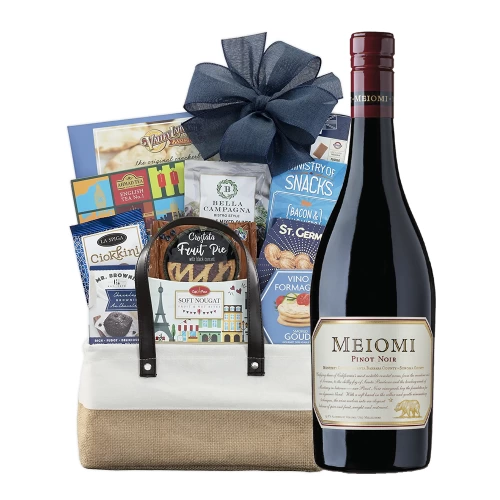 10. Ancient Peaks With Bon Appetit

Here is a cutest gift basket to refill Ancient Peaks with Bon Appetit Gourmet Gift Basket..

These wine gift baskets come with your choice of bottle of wine with a flavorful Godiva chocolate box. To ensure safe delivery of your gift basket we keep careful to pack the gift basket in such a way in which it gets no harm and is delivered safely.
Hassle free Christmas gift purchase
We understand and care for you, and also are aware of your stuck-up routines which gives you almost no time to purchase gifts. This gets more difficult when Christmas is around. As we said we care for you, visit through our Christmas wine gift collection and experience hassle-free online purchasing of gifts available with doorstep delivery.
By opting for this, you can gift the premium range of wine gift basket pairing with a rich chocolate box which is absolutely gluten free and made by using high quality products to your dear ones.