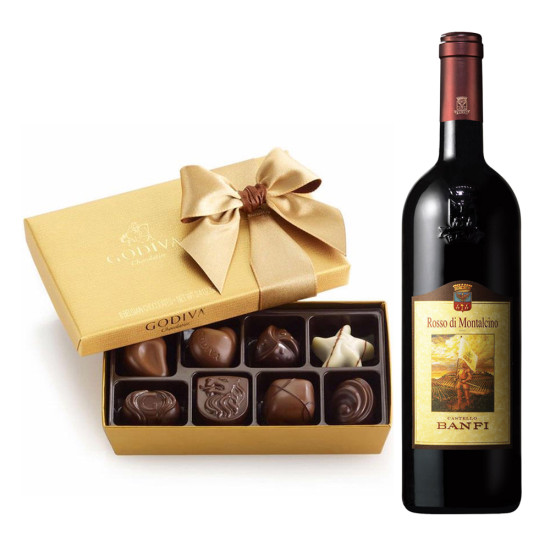 Banfi Rosso di Montalcino Wine & Godiva 8 PC Chocolate Gift Set
Stock:

In Stock

Model:

dcgb312

Banfi
Banfi Rosso di Montalcino Wine & Godiva 8 Piece Chocolate Truffle Gift Set
Here is our Banfi Rosso di Montalcino Italian wine and Godiva 8-Piece Chocolate Gift Set—an impressive assortment for the wine enthusiast or chocoholic on your gift-giving list. It has a bottle of bold Tuscan red wine made by Banfi and a box of chocolates made by Godiva in the Belgian style. Elegant to the max, it can be a stylish gift for birthdays, housewarmings, or other cosy gatherings.
The wine hails from the Tuscany region of Montalcino and is an ode to Italian winemaking. It is full of the goodness of Sangiovese grapes and is easy to drink because it was only aged for a short time. It has a ruby red hue and fruity and floral aromas. It is dry, medium-bodied, and well-balanced on the palate, with a pleasing acidity and a lengthy finish.
On the other hand, the classic Godiva gold package has eight chocolates that are all in their own separate compartments. Some of the flavour and texture combinations available include dark chocolate, milk chocolate, hazelnut praline, and raspberry ganache. Every piece of chocolate is handcrafted with passion and care to guarantee a one-of-a-kind flavour experience.
When the intense cocoa rush meets the wine's fruit and spice notes, the result is a taste that will stay with the lucky person who gets this gift set for a long time.
# Origin: Italy
# In the Gift Box
Rosso di Montalcino wine 750ml - BANFI

Godiva Chocolate Box 8 PC


Overall, this wine and chocolate gift set is a considerate option for those who appreciate the finer things in life and for occasions that call for delectable treats. So, send in your orders today to give your upcoming events a thoughtful touch of elegance. Using our "personalised bottles" service, you can even choose to customise this bottle of red wine.