08 May
If anyone has stood by you through thick and thin, it is your amazing mother! And for Mother's Day, we've compiled a list of Mother's Day wine gift baskets to help you express your gratitude and affection for her. Each of these Mother's Day wine basket ideas is outlandish and combines the yumminess of gourmet treats with the goodness of wine in a way that will leave your mom feeling tickled pink.
So browse here best wine gifts and send your mother a Mother's day wine gift basket that will shower her with hugs and kisses like never before! Even better if she is a foodie, a wine lover, or loves receiving gifts with a multitude of appeals.
Mother's Day Wine Gift Basket With Overture Red Wine & Godiva Chocolates
It's mind-boggling how this vast array is tucked up in a basket, exactly like your heart is filled with love for your mother. Grab it today to make your mom teary-eyed this Mother's Day, and the best part is that it will be delivered exactly as it appears here. A smorgasbord of chocolatey delights such as milk chocolate pretzels, caramel-filled nibbles, milk chocolate cashews, and more are coupled with an Overture classic Napa red wine.
If your mother is a chocoholic or a fan of Bordeaux-style wine with balanced flavors and complexity, this Mother's Day wine basket should be a part of your celebration. Trust me, she will thoroughly appreciate all of the treats in this basket, and that cute basket, once empty, will serve as a keepsake of your affection for a long time.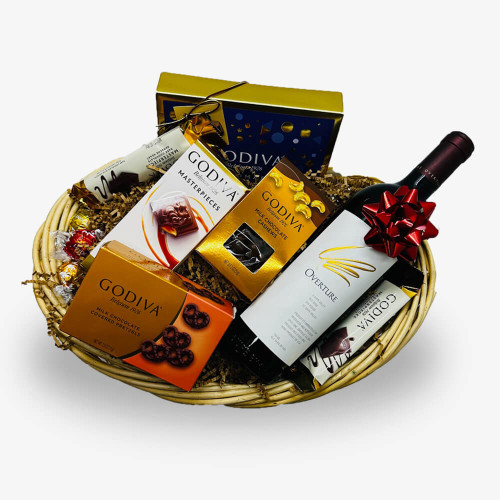 Shop Online Overture Red Wine & Godiva Chocolates
Celebrate Mother's Day in Luxury with Gourmet Delight Basket & Dom Perignon Brut Cuvee
Do you want to make this Mother's Day a luxurious affair? In that case, you should treat your mom to a bottle of Dom Perignon's brut vintage champagne and a heavy bag of snacks in this sparkling Mother's Day wine gift basket.
Your mother will have the experience of "tasting the stars," just as Dom Perignon did when he disc overed his signature effervescent. This champagne's balanced flavor profile, complexity, and crisp acidity make it an ideal pairing with paired-up snacks, from sesame cookies to olives, a chocolate brownie, smoked gouda cheese spread, and more.
Buy Online Gourmet Delight Basket & Dom Perignon Brut Cuvee

Mother's Day Turned Traditional With Caymus Red Wine & Cheese Gift Basket
Yeah, we realize there's a lot of talk about how traditional-themed gifts are boring and unthoughtful. But no revolution can change the fact that a red wine and cheese spread is the most approachable of all wine and food pairings. That is why we recommend getting this wine and cheese gift basket for Mother's Day, which includes a robust cabernet varietal with some cheese and nibbles.
The red wine is from Caymus Vineyards in Napa, and its robust personality shines through when paired with crunchy crackers, jalapeno cheese, savory sausage, dark chocolate nuts, and more. It's even better if your mother enjoys powerful red wines or isn't shy about trying something new.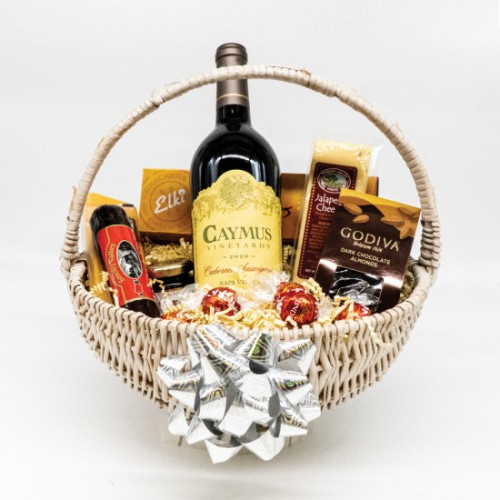 Buy Caymus Red Wine & Cheese Gift Basket
Dazzle-Up Mother's Day With Veuve Clicquot Champagne & Connoisseur Basket
Grab this wine gift for mom as Mother's Day approaches, because no milestone celebration is complete without a shimmer of bubbly, and so should Mother's Day be. It includes a bottle of Veuve Clicquot yellow-label brut champagne, a true French classic, as well as a bag full of munchies such as crackers, biscuits, olives, chocolate truffles, and more.
It's a thoughtful pairing, with each drop of bubbly complementing the snacks with its versatility in food pairing. It will undoubtedly add a heaven-felt feeling to your mother's special day. Plus points if she is a champagne lover or a foodie.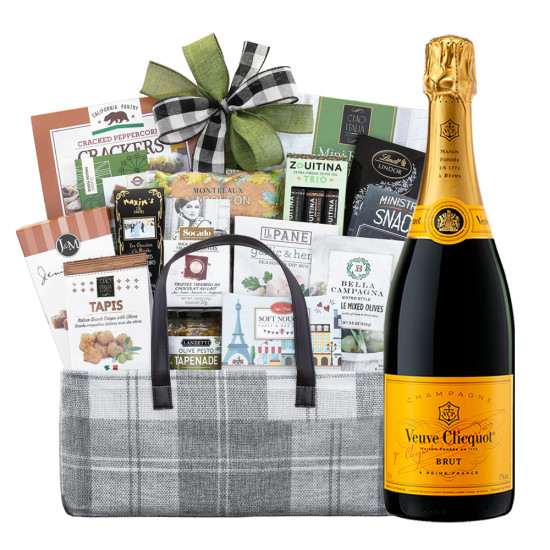 Veuve Clicquot Champagne & Connoisseur Basket buy Online

Burst Mamma Mia Confetti On Your Mom With Santa Margherita Italian Wine Basket
Speaking of the wine world, the spirit of Italy can't be subdued. This Mother's Day, warm up your mother's passion for wines with this adorable italian wine gift basket, which has a 100% Italian vibe and is pleasing with its soft pastel hues and delectableness. It combines an enjoyable Santa Margherita pinot grigio wine with an Italian culinary adventure.
If your mother likes Italian cuisine, is a fan of Italian wines, and would get a kick out of the thought of spicing up the kitchen with sizzling pasta that has been expertly dashed with seasoning mix and olives, then this would be the ideal wine gift for your mom.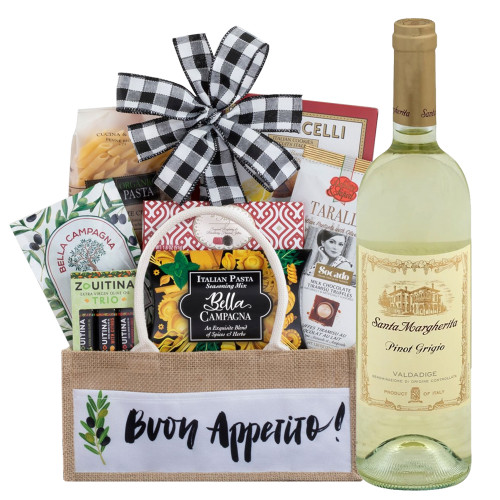 Shop Today Santa Margherita Italian Wine Basket
Dip This May 14 In A Spread Of Delectable Treats and Josh Cellars Chardonnay Wine
Don't forget that your mom deserves a memorable indulgence on Mother's Day, not just some boring snack food. This is why this assortment makes our list of Mother's Day wine gift basket ideas for mom. It comes in a durable box with a zesty chardonnay white wine by Josh Cellars, mellow cheddar, savory sausage, crispy crackers, and tart and tangy mustard.
This is an ideal wine gift for mom if she likes receiving a hearty meal, appreciates white wines, or enjoys enjoying her BBQ time with such mouthwatering appetizers and platters. Just imagine her unwinding in elegance with this thoughtful gift. Whoa!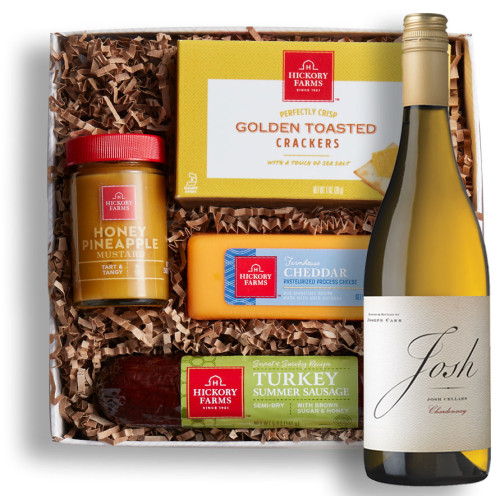 Bon Appetit Gourmet Gift Basket With Delicate Moet & Chandon Rose For Your Mom
If your mother's personal style leans towards delicate and fruity-flavored roses, then gift her this sparkling Mother's Day wine basket on Mother's Day. It pairs a Moet & Chandon Nectar Imperial Rose with a basket of delectable delicacies such as cookies, olives, truffles, crackers, and more.
This bubbly is demi-sec in style, so its sweetness nicely complements the sweetness and sourness of the nibbles. This Mother's Day hamper is ideal if your mother enjoys sipping rose, is a foodie, enjoys champagne, or would be astounded to get such a large assortment.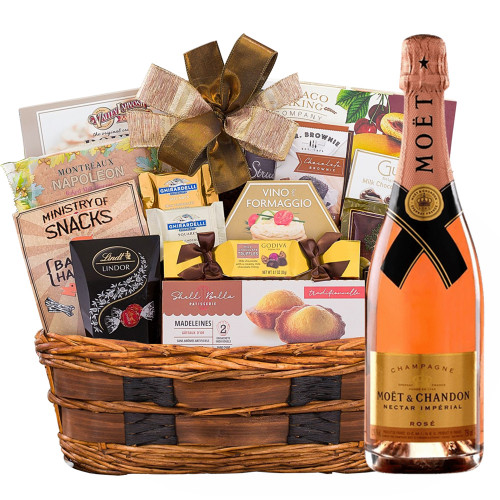 Shop Online Bon Appetit Gourmet Gift Basket With Delicate Moet & Chandon Rose For Your Mom


Most Refreshing Wine Gift For Mom - Rombauer & Josh Chardonnay With Godiva Truffles
A fantastic pair to drench Mother's Day celebrations in the zestfulness of white wines and the surge of cacao. Two chardonnay wines, one from Rombauer Vineyards and the other from Josh Cellars, are paired with a box of Godiva nuts and caramel truffles.
Each second spent with this combo is flawless, with subtle flavors of wine complementing the richness of caramel and acidity, cutting through the sweetness of the chocolate and caramel. If your mother enjoys white wines for their buttery and oaky character or a wine pairing with sided sweetness, this is the right mother's day present for her.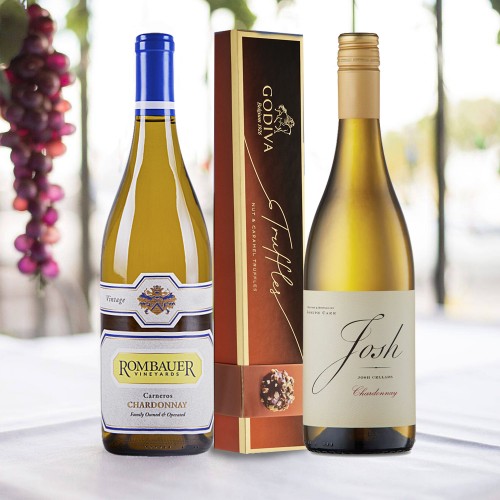 Shop Online Rombauer & Josh Chardonnay With Godiva Truffles
Effervescent Mother's Day Wine Basket With Godiva 26-PC Chocolates and La Marca Prosecco
Last but not least, this lovely wine gift for mom combines La Marca Prosecco with a substantial box elegantly compartmented with 26 Godiva chocolates, each crafted in a different style, flavor, and texture. It may be its elegant appearance or its appeal to a variety of tastes that draw attention. No matter how picky she is, your mother would like to receive this.
Upon being uncorked, this effervescent Italian wine exudes a light and frothy mousse that would make any party floor erupt in an uproar. On the tongue, it's fruity and flowery, with a clean, crisp, sharp finish that's tinged with minerality. It goes well with paired-up milk, dark, and white chocolates flavored with caramel, coffee, almonds, and more.