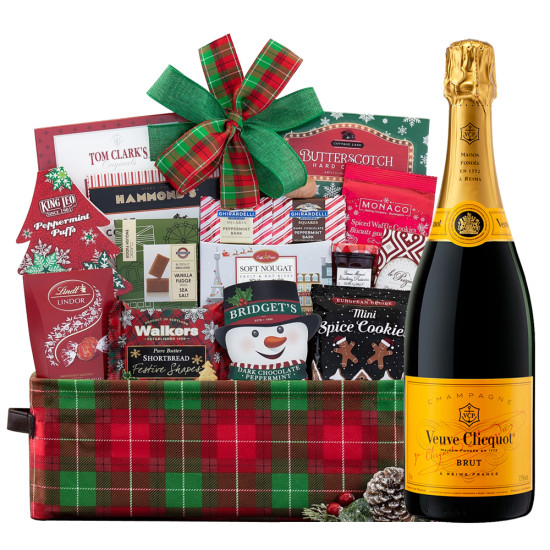 Out Of Stock
Congratulation Gift Basket With Veuve Clicquot
Stock:

Out Of Stock

Model:

DCGB099

UPC:

8175305020

Veuve Clicquot
Congratulation Gift Basket With Veuve Clicquot Brut Champagne 750 ML
This beautiful basket comes with a bottle of classic Veuve Clicquot Brut champagne with a yellow label and a variety of delicious treats that are sure to please anyone's taste buds. Dripping with grace, it is a perfect pick for champagne lovers, foodies, and special occasions like birthdays, anniversaries, or sincere thanks.
Veuve Clicquot is a classic champagne with a bouquet of fresh fruits, vanilla, and brioche that is mesmerizing when you open the bottle. Each sip is like an odyssey into a world of goodness, thanks to its rich and toasty notes. The champagne pairs perfectly with a spread of fruit and nut bites, caramel popcorn, spiced waffle cookies, fruit jellies, and other delectable treats included in the basket.
Items Included in This Gift Basket:
Veuve Clicquot Brut Champagne– 750 ml

Soft Nougat Fruit & Nut Bites (4pc)

Hot Cocoa (0.85oz)

King Leo Peppermint Puffs (5pc)

Butterscotch Candy (3oz)

Lindt Lindor Milk Chocolate Truffle Balls (2pc)

Fruit Jellies (6pc)

Vanilla Fudge with Sea Salt (2pc)

Caramel Popcorn (3oz)

Bonne Maman Strawberry Preserves (1oz)

Ghirardelli Peppermint Bark Square (1pc)

Ghirardelli Peppermint Bark w/Dark Chocolate Square (1pc)

Hellema European Recipe Mini Spice Cookies (0.88oz)

Spiced Waffle Cookies (2.82oz)

Walkers Shortbread Cookie (1 oz)
Not only is this gift basket a thoughtful present, but it also showcases your thoughtfulness. So why wait? Savvy up your gift-giving game today and surprise your loved ones with this thoughtfully paired gift basket! Each item, along with the champagne bottle, is delivered with the utmost care and punctuality.
If you have any questions or concerns, our customer service team is always available to assist you. Simply reach out to us at [email protected].