03 Feb

Posted By
0 Comment(s)
5794 View(s)
Here We Present 10+ Popular Champagnes Gifts to Buy for Upcoming Events
We have the finest champagne gifts, bottled with the finesse and grace of the Champagne region, perfect for any occasion, whether you want to celebrate an anniversary, send your best wishes, or congratulate someone. Here are 10+ Popular Champagne Gifts of our favorites to help spark those much-anticipated gift-giving occasions.
1. Dom Perignon Vintage Champagne
The experience of enjoying a bottle of Dom Perignon Brut Vintage Champagne 750ml and Dom Perignon Magnum 1.5 Liter is like traveling through time. The champagne house represents the same revolutionary insight as the Benedictine monk who discovered it: "Come quickly; I am experiencing the sky!" This sparkling orange champagne tastes like toasted almonds, dried lavender, cookies, and caramel for a long time after you drink it. When used wisely, the residual sugars in a drink give it both a light, airy feel and a solid body.
2. Billecart Salmon Cuvee Louis Salmon Blanc De Blancs Brut
This champagne's delicate gold tint and lively bubbles will captivate any drinker. The minerality and purity of this Blanc de Blancs come from the fact that it is made from 100% Chardonnay from the best plots of great crus. Cuvee has a pleasant harmony and a tremendous length of flesh, like sinking into a rich pie scented with calamansi, spice, and caramel. It has a scent that is crystalline and gritty.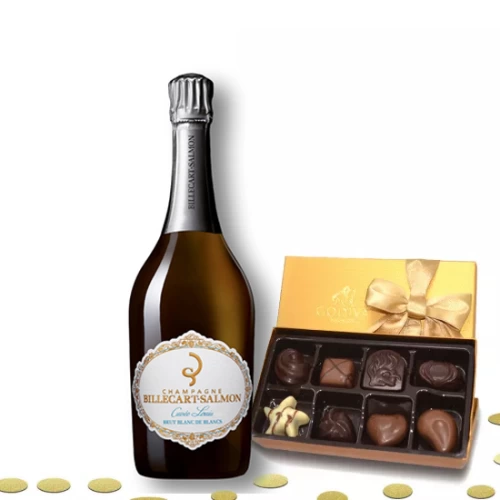 3. Dom Perignon with Assorted Godiva Chocolates
Dom Perignon is always known for its prestige. This beautiful collection of Dom Perignon with Godiva assorted chocolate boxes is also known as Home Baskets. You will get this amazing basket online at the best price at DC Wine and Spirits with doorstep delivery in the USA. Celebrate your occasion by purchasing a Dom Perignon Magnum Vintage Champagne gift basket.
4. Krug Grande Cuvee Champagne
Using the idea of vintage, Krug Grande Cuvee is a collection of more than 120 wines from ten years that work well together. Approximately seven years pass between when the bottle is finished and when it is released from Krug's cellars. Chestnut, caramel, grain syrup, devilled and lime fruit, nuts, brioche, and honey all benefit from this aging process, as do the flowery, dry, and citrus scents and flavors. Light golden in color, this champagne is bursting with energy and vitality thanks to its rich texture, which is apparent at every moment of its creation. Grape Blend: 51% Pinot Noir, 38% Pinot Meunier, and 11% Chardonnay.
5. Louis Roederer Cristal Champagne
The Louis Roederer Cristal Champagne Cork is the most famous thing made by the Louis Roederer Champagne House, which is known all over the world. It is the recipient of multiple awards. The use of sparkling highlights and effervescent, fantastic, and vibrant bubbles gives a sense of authority and elegance. This cuvee is well-balanced, with a silky mouthfeel, fruity smells, and a strong mineral taste that goes well with the white fruit and lemon flavors.
6. Moet & Chandon Brut Imperial Champagne
The bubbly Brut champagne just oozes charisma and energy. Vitality and generosity come from its pink blessing and sophisticated ageing in the cellars. More than a hundred wines were mixed to make this greatest cuvee. This was done to give it this level of complexity and maturity. The strong bubbles of the wine mix with the smells and tastes of green apples, grapefruit, white flowers, toast, oats, blackcurrants, new almonds, peaches, plums, and apples in a glass. Quality champagne to toast a special birthday. Pinot Noir (30–40%), Pinot Meunier (30–40%), and Chardonnay (20–30%) make up the grape blend.
7. Nicolas Feuillatte Cuvee Palmes d'Or Brut Millesime
This blush of delicious champagne fruits bubbles with excitement, making it look like beautiful pearls. It is very rich. This bright gold champagne has a hint of elegance, but it is still completely clear.
There are hints of dried flowers, peonies, golden syrup, and gossamer bubbles in the flavor, and the mouthfeel is delicate and linear. Notes of fruit (cherries and peaches) combine with curries and curcumin spices to create a distinct aroma on the initially subdued scent. This wine can create delicious combinations with poultry, urchins, and red cherry-based desserts.
8. Perrier Jouet Belle Epoque Rose, 2012
The charming Belle Epoque Rose from Perrier-Jouet is a cuvee that lives up to its name. It effortlessly provides moments that are both appealing and delightful, like satin.
This results in the perfect toasts for the savory culture, which have tangerine highlights and a rainbow trout hue. On the palate, there are hints of cranberry and lemon combined with the richness of brioche to create a balanced sensation. On the nose, there is a hint of fruitiness, namely pinkish grapefruit and citrus. Pinot Noir makes up fifty percent of the blend, while Pinot Meunier and Chardonnay each account for twenty-five percent.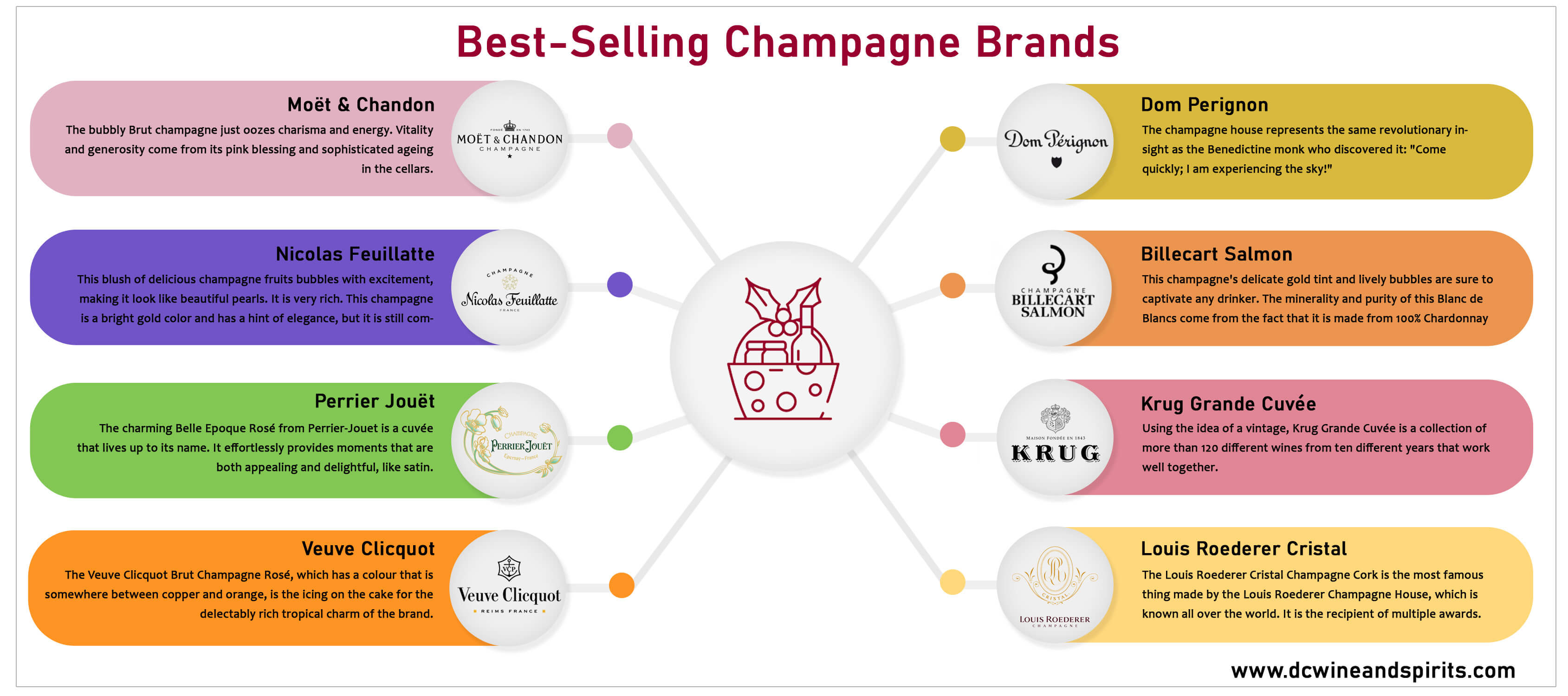 9. Veuve Clicquot Rose Champagne
The Veuve Clicquot Champagne Rose, which has a colour that is somewhere between copper and orange, is the icing on the cake for the delectably rich tropical charm of the brand. The gorgeous pink glitter on the flavor of this champagne strikes the perfect balance between the pistachios, apricots, bread pie, and fruity flavors of the champagne. Strawberry aromas, including those of unusually ripe wild strawberries, greet the nose.
10. Veuve Clicquot Champagne And Assorted Godiva Chocolate Gift
Veuve Clicquot Yellow Label Brut is one of the most well-liked non-vintage champagnes, known for its smooth surface and sweet scent. This gift basket has some delicious Godiva chocolates that taste like nuts and caramel. They go well with the champagne inside. This gift basket is great for both giving and enjoying, thanks to the crunchy chocolates and smooth centers that make up the assortment and to the distinctive champagne by Veuve Clicquot.
11. Bon Appetit Gourmet Gift Basket With Moet and Chandon Imperial Brut
This is a great selection of crisp Moet and Chandon Imperial Brut champagne carefully wrapped in cocoa and snack paper to show off the cuvee's greenish apple, flower, croissant, raspberry, and fresh nut undertones. This nuanced, consistent, and mature blend of Pinot Noir (40%), Pinot Meunier (30%), and Chardonnay (30%) was made from over a hundred individual wines. This luxurious gift basket, with its contrasting glitter of gold and brown, is perfect for taking your next celebrations to a whole new level.
NOTE: Therefore, these champagnes represented the pinnacle of the category. Please visit our online shop for more cuvees and champagne gifts stocked with rich chocolates, olives, crisps, nuts, and other delicious treats.
Browse our champagne gift baskets for more cuvees and Champagne gifts stocked with rich chocolates, hearty cheeses, nuts, and other delicious treats. A Champagne Basket is an excellent gift for any special occasion, such as an engagement, anniversary, special occasion, or holiday.