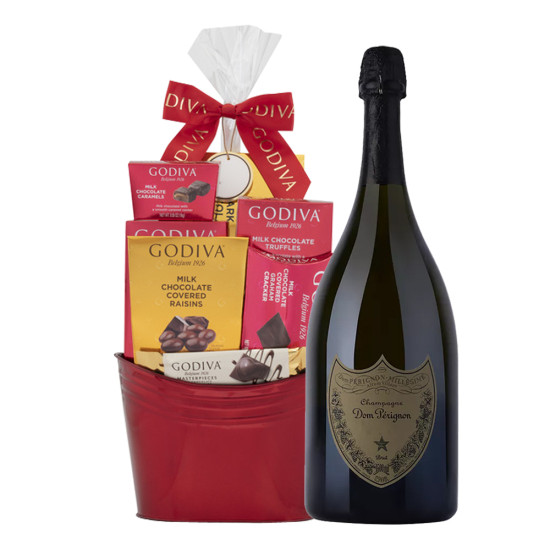 -17 %


Dom Perignon Champagne with Godiva Chocolate Gift Basket
Stock:

In Stock

Model:

dcgb291

Dom Perignon
Elevate your upcoming celebration with the ultimate indulgence of baller champagne and Belgian-style chocolates. This gift set features Dom Perignon Brut Champagne paired with a tub of Godiva cocoa rush, creating a mesmerizing experience that exceeds expectations. Perfect for weddings, graduations, or any occasion where you want to add a touch of luxury.
Dom Perignon Brut Champagne is considered to be the epitome of excellence. Its effervescence releases a delicate bouquet of aromas, a subtle toasty flavor, and undertones of opulence that evoke the essence of cognac. As the legendary Dom Perignon once famously stated, each sip is akin to "Drinking Stars."
When complemented with a variety of milk, dark, and white chocolates infused with a medley of flavors such as raisins, caramel, and graham crackers, the experience becomes a harmonious blend of pure bliss and serenity.
Included in this gift bucket are:
Dom Perignon Brut Champagne Bottle 750 ML

Godiva Chocolates
Order this thoughtful gift set today to treat yourself or express your love for someone special. Our delivery services ensure prompt and careful delivery right to the recipient's door. If you have any questions, please don't hesitate to contact us at
[email protected]

.