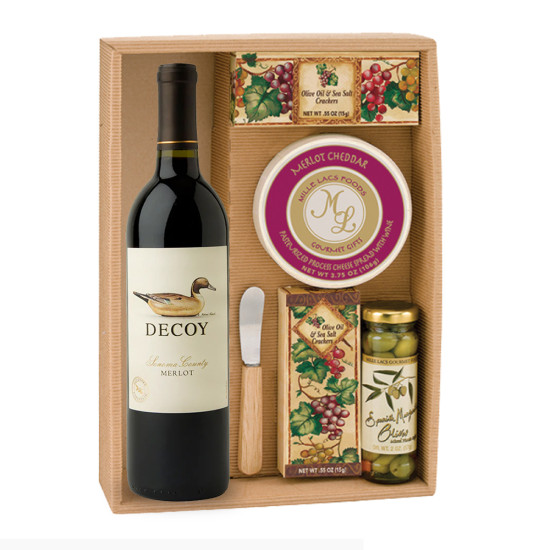 Out Of Stock
Decoy Merlot Wine Gift Set
Stock:

Out Of Stock

Model:

dcgb214

Decoy
Decoy Merlot Wine Gift Set
This Decoy Merlot Wine Gift Set is the ideal present for those in your life who appreciate pairing substantial meals with wine. This gift basket is a lavish indulgence for special occasions such as birthdays, anniversaries, and Mother's Day, as it contains a smooth and approachable merlot wine and delectable delights.
Presented in a sturdy cardboard box, this gift set includes a bottle of Merlot red wine produced by the Decoy Winery in California. This wine is crafted from high-quality Merlot grapes sourced from Sonoma County AVA, a region renowned for its extraordinary terroir. Occasionally, modest amounts of Cabernet Sauvignon or Petit Verdot are added to the blend to enhance its complexity and body.
The wine is quite remarkable, and it entices the taste buds in a lasting fashion. It's a deep ruby red in hue, with alluring aromas of black fruit, vanilla, baking spices, and a touch of earthiness. On the palate, it is full-bodied, with flavors of dark fruit, cocoa, sweet oak, and coffee. With gentle tannins and a long finish, the mouthfeel is silky.
This red wine's well-rounded character and flavour are complemented by a spread of olives, sea salt crackers, olive oil, and a cheddar cheese with a creamy texture and slightly acidic flavour that is inspired by merlot wine. A cheese spreader is also included to help with serving and savoring.
In sum, this wine gift set is thoughtfully curated and a delectable treat for foodies and oenophiles alike. Don't wait any longer to make upcoming occasions even more special by purchasing this fantastic gift box!
With utmost care, our team can ensure that this wine gift set arrives on time and in good condition. Whether you're sending it to yourself or a loved one as a present, our hassle-free delivery services have got you covered!