29 Nov
Posted By
0 Comment(s)
195 View(s)
As the holiday season draws near, the air hums with the promise of joy, connection and celebration. With each passing moment, the countdown ticks away, heralding the imminent arrival of Christmas — the epitome of festive cheer and anticipation. From inviting church services to adorning homes with a tapestry of Christmas-themed decorations — dazzling lights, ornate trees, festive wreaths, garlands and stockings – the traditions abound.
Amidst these cherished partakes, the heart of the season lies in the company of loved ones – a canvas painted with cozy gatherings, lively conversations, sumptuous feasts, and moments of pure relaxation. Yet there is another way to celebrate Christmas in a fun way by incorporating your holiday reverlies with a touch of sophistication – by intertwining the art of wine into the fabric of your celebrations.
This blog aims to answer how to celebrate Christmas in a fun way, transforming it into a vinous adventure where the joy of sipping, sharing, and experimenting with fine wines becomes an integral part of the festivities.
Celebrate Christmas By Showing Your Appreciation With Thoughtful Wine Gifts
Expressing gratitude lies at the heart of Christmas, and what better way to express this sentiment than through thoughtful gifts? Our wine gifts collection is not just an array of wine bottles; it's a treasure trove comprising the rich diversity of the wine world. From robust reds and delicate roses to crisp whites, unique blends, effervescence-rich champagnes, and proseccos, there is each possible expression available, unique in its own unique taste and complexity.
Assorted in scrumptious wine and chocolate gift baskets, wine and snacks gift baskets, and wine and cheese gift baskets, these wines elevate the art of gifting. Catering to diverse budgets and taste preferences, from easygoing to refined, they promise meaningful surprises in wine and food pairings for every cherished recipient.
Switch To Personalized Wine Presents To Celebrate Christmas With a Personal Flair
The remarkable versatility of our wine gift selection goes beyond simply offering suitable options and affordable choices; rather, a current trend in gift personalization serves to further enhance its allure. We offer you the freedom to infuse a personal flair by allowing the pairing of any wine bottle with any assortment (basket, box, or set), simplifying both budget- and taste-driven gift selections to align with the recipient's preferences.
To win the gift-giving game, don't forget to check out our personalized season-themed Happy Holiday Gift Basket & Season's Greetings, Christmas Special Hand-Painted Veuve Clicquot Gift Box, and Ruffino Riserva Ducale Wine with Godiva Chocolate Box.
Closet And Share Beautiful Keepsakes For Post-Christmas Bliss
Beyond our delectable and easily customizable wine gift baskets, our personalization options extend to creating cherished keepsakes. Imagine transforming your selected wine bottle gifts into timeless mementos through our hand-painted sparkling wine bottles and custom-printing service for personal messages. These services ensure that the memories of this festive season linger well beyond the holiday itself.
Opting to buy custom-printed wine bottles and hand-painted wine bottles allows you not only to extend Christmas greetings but also to embellish your kitchen cabinet, living room showcase, or wine cellar with these personalized touches.
Celebrate Christmas With An Enhanced Backdrop With Season-Themed Additions And Chic Wine Accessories
Apart from the Christmas-themed decorations like ornaments, wreaths, and twinkling lights, craft a cozy ambience for your Christmas feast by incorporating wine accessories, season-themed packs, figurines and must-have Santa caps. Ideal glassware won't just elevate the aesthetic appeal of the party table but also heighten the entire sipping and sharing experience by making wine's color and texture shine through, opening up aromas and flavors and maintaining the temperature.
You can quickly get the preparations done with these wacky additions:
Celebrate Christmas In a Fun Way With Memorable Vinous Feasting
No celebration, regardless of its scale, is complete without the joy of great food. On a momentous holiday like Christmas, elevate the flavors of traditional Christmas dishes—such as roast turkey, glazed ham, savory stuffing, creamy mashed potatoes, and decadent Yule log cake—by harmonizing them with exquisite wines.
Embrace the festive feasting in various favorite vibes: indulge in a warm and inviting ambiance with red wine and food pairings, relish a refreshing and smooth experience with white wine, or infuse the gathering with a party fervor by adding sparkling wines alongside treats. If time is short or cooking isn't your forte, our wine gift baskets and champagne gift baskets effortlessly elevate your party table in an instant!
Trust me, the Christmas dinner will be memorable with wines acting as great conversation starters, palate-cleansers, and beautiful toasts to the festivities.
Virtual Toasts: To Celebrate Christmas Together With Long-Distance Loved Ones
In this era of virtual connections, consider bridging the physical distance by raising a virtual toast with loved ones, each with a glass of wine in hand. This is how you can make Christmas special for family and friends residing far away. Sharing these joyous moments virtually fosters a strong sense of togetherness, allowing for a heartwarming connection even when separated by miles, all amidst the holiday cheer.
For organizing a surprise virtual meeting, avail our wine delivery and champagne delivery services to send wines and delightful treats straight to the doorsteps of your loved ones.
Celebrate Christmas In a Fun Way By Hosting a Delightful Wine Tasting Party
Are you figuring out how to make Christmas fun for adults with an infusion of wine-inspired creativity? Consider hosting a delightful wine-tasting party for family and friends. What makes this idea exceptional is its timelessness; it fits seamlessly into various Christmas celebration schedules, whether during the advent season or the famous 12 days of Christmas, spanning from December 25th to January 6th.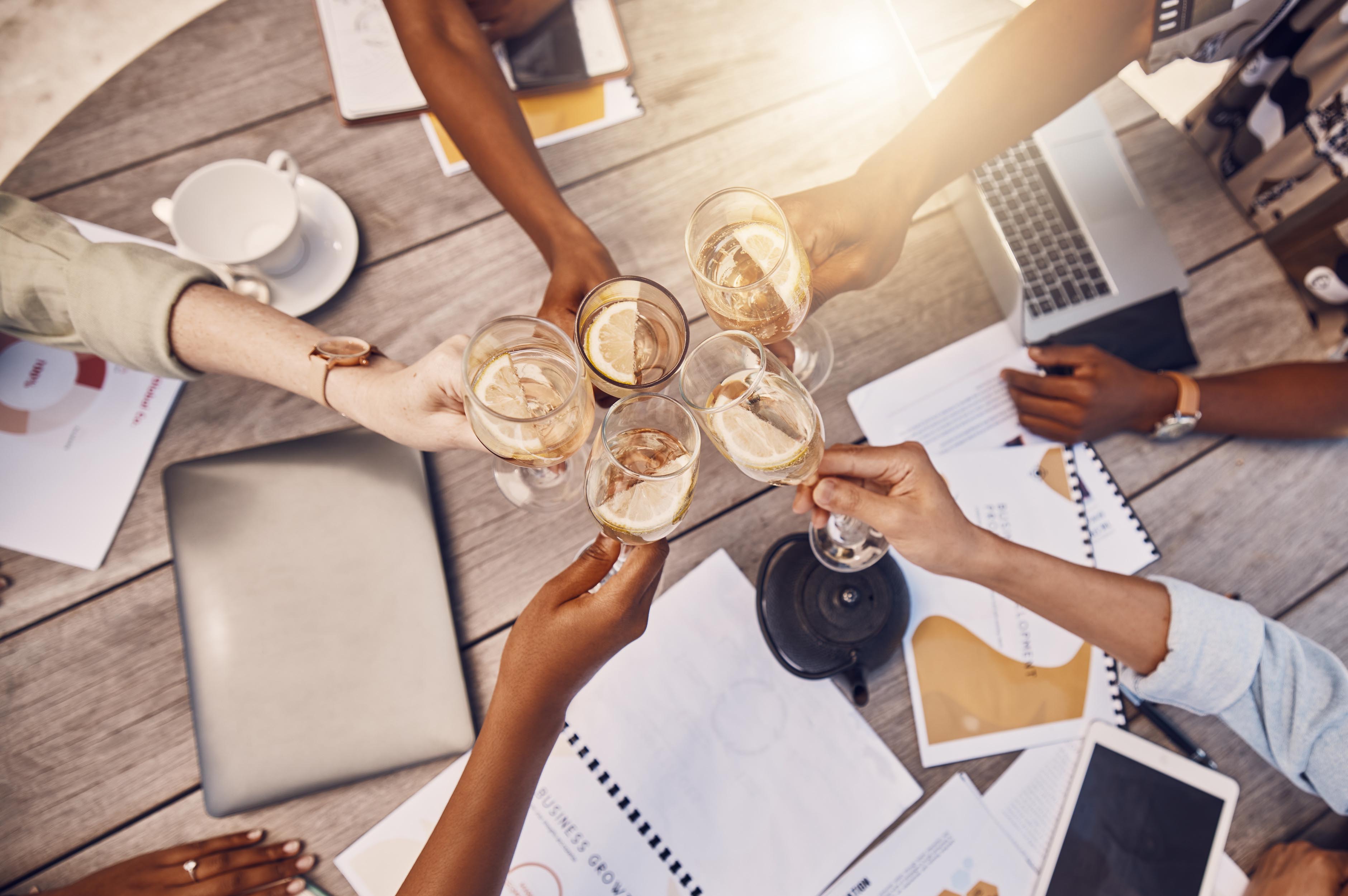 However, this festive thrives best among guests who share a genuine fondness for wines and would love exploring the diverse spectrum of vinous adventures together - the most recommended bold Cabernet Sauvignon, crisp Blanc De Blancs, fruity rose, and complex cuvee. If not, fret not! Our other recommended tips on how to celebrate Xmas have your back.
Celebrate Christmas In a Fun Way With a Festive Movie Marathon
Another delightful way to cap off the festivities is to gather loved ones for a festive movie marathon. Create a cozy setting with softly lit lights, plush blankets, and perhaps a crackling fire. Choose classic Christmas movies, including our all-time favorites "It's a Wonderful Life," "Home Alone," and "Love Actually," or opt for a mix of heartwarming favorites and new releases.
Pour generous glasses of your preferred wine selections, perhaps a velvety Pinot Noir or Prosecco, and nibble on delectable snacks or cheese platters between films. This relaxed yet jubilant affair is a laid-back yet fun way to wind down after a day filled with joyous celebrations.
Celebrate Christmas End On a Fun Yet Relaxing Note With Book Reading Session
Apart from lively movie marathons, embrace a serene Christmas wrap-up by choosing a tranquil book reading session. It is ideal if you are somewhat of a bibliophile or if you are seeking a peaceful closure. It will offer a moment of quiet reflection on cherished memories, ensuring the evening's tranquility is as enchanting as the day's festivities.
Settle into a cozy nook with your favorite wine and book, accompanied by a soft hum and the comforting warmth of a bonfire. This peaceful conclusion invites you to immerse yourself in the essence of Christmas, cherishing the beauty of togetherness and the heartwarming holiday spirit.
Final Thoughts
On a final note, celebrate Christmas on an upscale level with the sophistication of fine wines, thoughtful Christmas gift baskets, and personalized keepsakes. From festive feasting to virtual toasts, a delightful wine-tasting party, and a cozy movie marathon, infuse joy and elegance into every moment of this holiday season. Cheers to a memorable and vinous Christmas!