24 Mar

Champagne is a sparkling wine associated with celebrations, opulence, and sophistication since ages. Its exceptional dazzle, taste profile, and scent have contributed to making it a worldwide favorite. Not only is it a delectable drink, but it also exudes an air of refinement that has the potential to make any occasion memorable.
A bottle of champagne may add a touch of extravagance to any celebration, whether it's a wedding, anniversary, graduation, or housewarming. Its versatility makes it a popular gift for any celebration, and its quality ensures that it will always be remembered as a treasured gift by the recipient.
This article contains a list of champagne gift ideas for all occasions. From personalized champagne bottles to champagne gift baskets, we have the perfect gift for any champagne lover. So let's burst the cork and investigate these champagne gift ideas together!
A Set of Champagne Bottles - For The Ultimate Celebration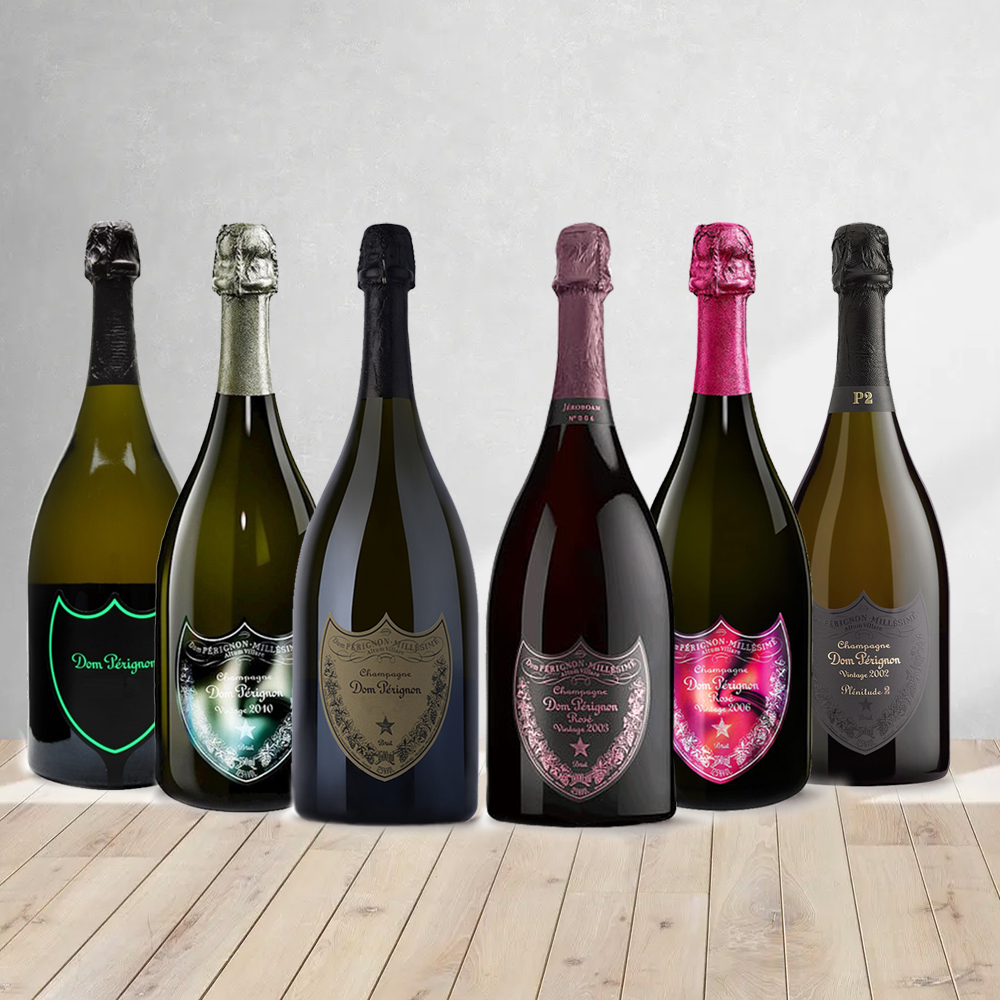 For those seeking a luxurious champagne gift idea, a set of champagne bottles is the ultimate choice. It's perfect for those who enjoy popping multiple bottles of champagne or receiving sophisticated gifts. Whether you're searching for a wedding champagne gift or an anniversary gift for a couple, this option is a surefire winner.
The beauty of this present is that you can choose to purchase a set of identical champagne bottles, ideal for someone with a favored brand, or a variety of champagnes to encourage the recipient to try new styles. Obviously, it is crucial to choose champagnes that are both affordable and of high quality. And don't neglect to ensure that the set is delivered in a secure and pristine state to avoid any disappointment and unwarranted damage.
Champagne Paired With Set of Chic Flutes
If your gift recipient is particular about how they enjoy their wine, consider giving them a set of flutes paired with a classic bottle of champagne. This thoughtful gift not only lets them enjoy their bubbly style, but the flutes' tall and narrow shape helps preserve the bubbles and aromas of the champagne, making it taste better.
By pairing a quality champagne with a set of flutes, you can transform an ordinary moment into a luxurious and unforgettable experience. This is an excellent gift idea for occasions such as birthdays or corporate gift-giving, where you may be celebrating on a larger scale.
An Art-Inspired Bottle of Champagne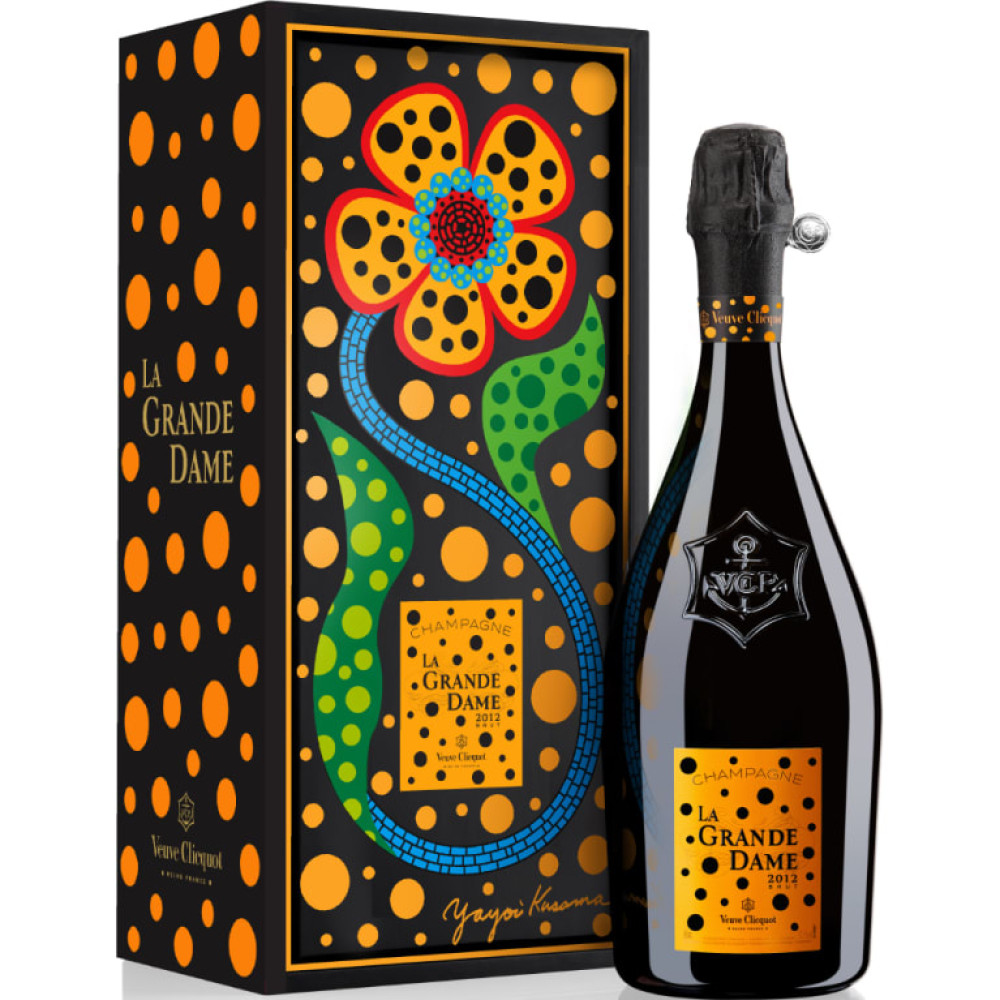 A champagne bottle inspired by art is an excellent gift for a presentation-savvy recipient. These exquisite bottles are frequently adorned with enticing designs and patterns that display the creativity and skill of the artist who created them.
Not only does a champagne container inspired by art enrich the drinking experience, but it also provides a visual feast. Whether savored alone or with close friends and family, an art-inspired champagne bottle is a genuine work of art that adds a touch of refinement and sophistication to any event.
Champagne Gift Basket - Dripping With Rush of Cocoa
A gift basket of champagne and chocolates is a luxurious and indulgent choice that is appropriate for various events. This champagne gift idea is ideal for Birthday Wine Gift Baskets, as well as baskets for housewarming and other occasions. It often includes a delightful assortment of desserts and a bottle of top-quality sparkling wine.
Champagne is commonly associated with festivities and luxury, whereas chocolate is a classic symbol of extravagance and love. Together, they form a harmonious relationship that is bound to please the senses. Try getting a champagne and chocolate basket that is tailored to the recipient's preferences and also pairs well together to not overwhelm them.
Champagne Basket- Overflowing With Spread of Snacks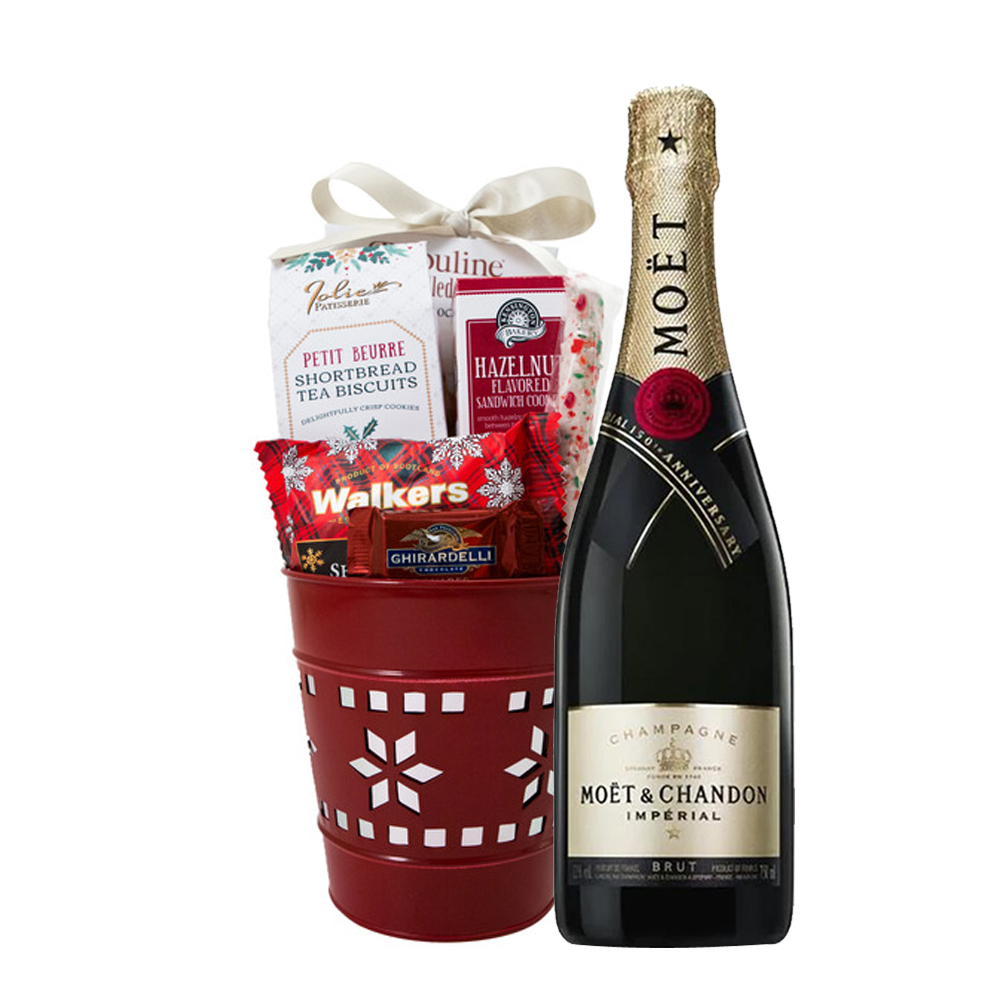 A champagne and snacks gift basket is a wonderful way to celebrate a special occasion or express gratitude. And who wouldn't want to cap off a night of celebration with sparkling wine and a spread of scrumptious snacks? The hamper typically includes a bottle of bubbly in addition to an assortment of snacks, like cheese, chocolates, nuts, crackers, and fruits.
This combination of delights and bubbly makes for a spectacular sensory experience that can be enjoyed alone or with family and friends. Champagne gift baskets of this sort are famed for birthdays and weddings, and they are available in every taste preference and budget allocation.
Send a Customized Bottle of Champagne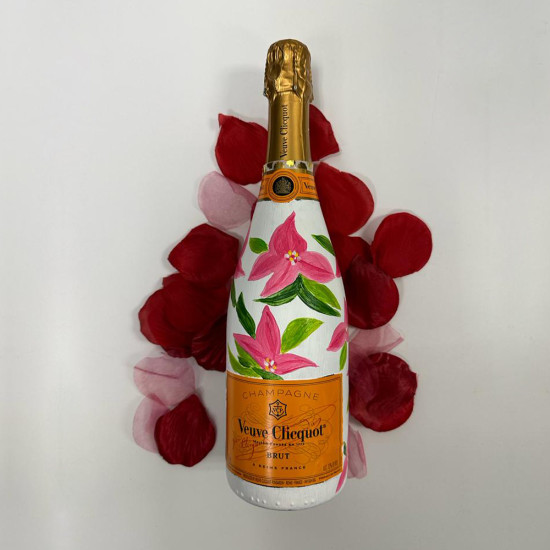 Personalized gifts have the power to convey our feelings in a creative manner. If you're looking to make an even greater impression when gifting champagne, consider giving a personalized bottle. Not only will it make the recipient feel special and appreciated, but they will also cherish the bottle as a keepsake of your thoughtfulness for years to come.
There are many ways to add a personal touch to a bottle of champagne, such as custom engraving, personalized labels, decoupage, designs that fit the event, or a thoughtful gift card. For example, on Mother's Day, you could give your mom a bottle of champagne adorned with imprints of roses and a message saying "I Love You Mom", as you know she loves both champagne and roses.
Looking For Similar Champagne Gifts Online?
Are you searching for champagne gifts that are similar to what you have seen online? Look no further than the DC Wine and Spirits gift store! Our collection boasts champagne Gift Ideas for all occasions that pay tribute to France's Champagne region, renowned for its superior terroir and winemaking techniques. Each champagne bottle is filled with a remarkable finesse in terms of palate, aromas, and perlage.
In addition to our selection of champagne bottles, we also offer personalized hand-painted bottles, champagne gift sets, and gift baskets featuring champagne paired with delectable spreads of chocolates, cookies, crackers, olives, pastries, and more. Whether you're searching for the perfect gift for a special occasion or recipient, our offerings will surely impress.
So Let's Raise a Glass to That!