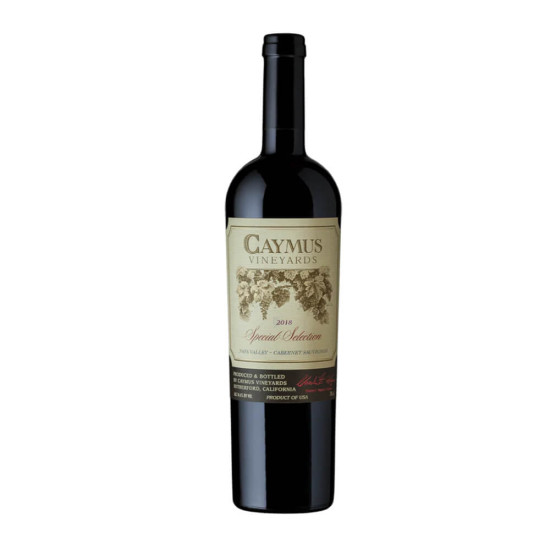 Caymus Vineyards Cabernet Sauvignon 2018 - 750ml
Stock:

In Stock

Model:

dcgb304

UPC:

017224712107

Caymus
Caymus Vineyards 2018 (Special Selection) Napa Valley Cabernet Sauvignon Wine Bottle 750ml
Caymus Vineyards Cabernet Special Selection 2018 is a vintage red wine that is ideal for those who favor tannic and sharp red wines. It is produced by Napa-based Caymus Vineyards, renowned for its distinctive cabernet wines and extensive winemaking expertise stretching back to 1972. Low-fertility soils and meticulous viticulture practices make this red wine exceptional and worthy of the "Special Selection" title.
Regarding its look, the wine has a dark hue and its pour can turn any glass alluring. On the nose, it possesses a captivating bouquet of ripe cassis, blackberry, and liquorice with traces of crushed strawberry. It has a delicious, balanced flavor with hints of cassis, liquorice, and crushed Boysen berry, along with subtle hints of raspberry and little black fruits. Ideal for a Sunday brunch, an anniversary celebration, a birthday party, or a small, intimate get-together with friends.
In overall, the Caymus Vineyards Cabernet Special Selection 2018 is an enduring wine that is perfect for commemorating special occasions and strengthening bonds with loved ones. Remember that this is a limited-edition wine, so place your orders immediately. We will help you receive or send this wine to its destination with complete punctuality and care, all thanks to our hassle-free delivery services.