06 Dec

Posted By
0 Comment(s)
257 View(s)
Christmas is around the corner and DC Wine and Spirits have some beautiful wine basket gift ideas for you. Well these wine gift baskets are hand selected from all around the world to serve you with the best.
With wine and spirits gift ideas to give on this Christmas you will no more be confused in what basket to buy as you get to choose from the finest, exclusive and gorgeous collection of wine baskets. We have online delivery options available for you which gives you doorstep delivery.
All we need for online delivery is the delivery address, shopping for wine gift baskets has now made it easy for you and is made just a click away.
Christmas Gifting easy with DC Wine and Spirits:
We have everything you need for your Christmas gifts. Please take your time to visit our special Christmas wine gift basket collection and the beautifully decorated baskets with numerous designs and colors matching the Christmas theme so that you and the person receiving the gift feel the vibe.
Christmas is considered to be one of the most awaited festivals. Majorly it revolves around kids since they are so much fascinated by Santa Claus since they await for their gifts. Also, the elders participate by exchanging gifts on this auspicious festival with their loved ones, feasts are hosted as per traditions and a full family-friends time gathering is celebrated.
This is a festival of unity and togetherness since we do think to re-join our families on Christmas.
A few popular and best gift wine baskets for Christmas gifting are:
1. Holiday Special Daou Reserve Cabernet Wine Gift basket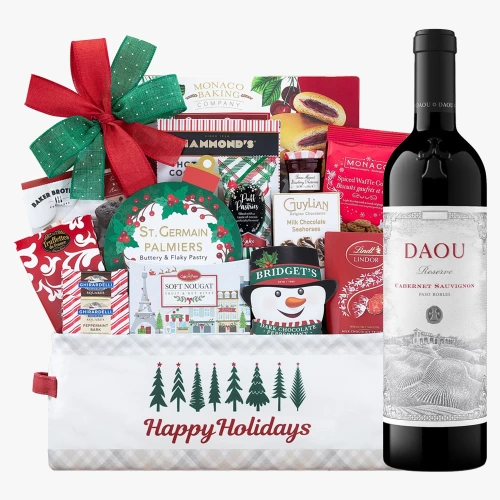 Topping our list is the Holiday Special Daou Reserve Cabernet Sauvignon Wine Gift Basket. At first glance, it exudes a Christmas-ready charm, showcasing a Californian cabernet complemented by mouth-watering delights amidst a backdrop of Christmas-themed snow white, green, and red colors. The robust personality of this cabernet makes it the ideal choice for a magnificent yet inviting Christmas greeting. Upon receiving this Christmas wine hamper, the recipient will be delighted not only to sip and savor the bold, warm red amidst the chilliness but also to harmonize each moment with the paired treats: chocolate brownies, fruit & nut bites, cherry strudel, truffles, spiced waffle cookies, and more.
2. Duckhorn Vineyards Napa Valley Gift Set

It comes in a beautiful cart shaped gift basket and includes some finest cookies. The beauty of this gift basket is its basket since it gives you an attractive and handmade look.

3. Opus One Gift Basket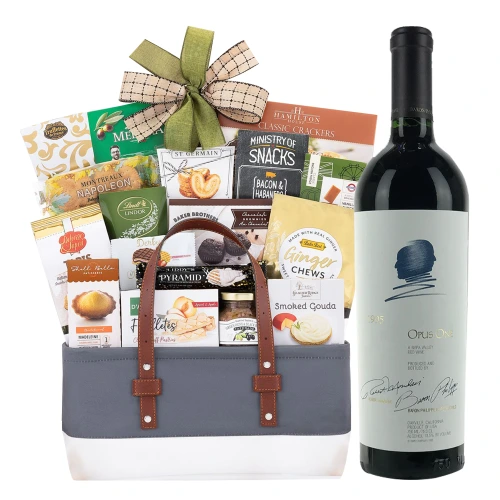 Our best-selling Opus One Gift Basket is an ideal choice for greeting loved ones with Christmas snack baskets that promise fun and delightful sharing moments. Encased in an adorable grey checked bag with reinforced leather handles, this gift pairs a Bordeaux-style vintage red blend from Opus One with a boatload of snacks. From cookies to olives, crackers, truffles, fudge, and more, this basket promises a leisurely and enjoyable snacking experience. The wine-drinking journey becomes truly magical as a wide spectrum of flavors collides on the palate, from the diverse flavors of the goodies to the harmonious clash of personalities among various varietals in the blend itself, from cabernet sauvignon to petit verdot, merlot, cabernet franc, and malbec.
4. Caymus Cabernet Sauvignon Gift Basket: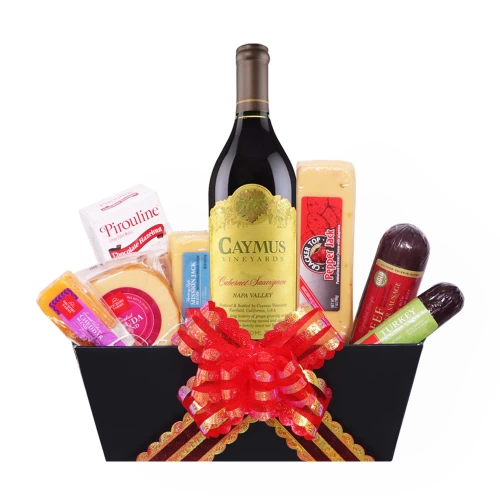 With a variety of gourmet delights introducing our Caymus Cabernet Sauvignon Gift Basket . Our gift basket comes with a variety of flavored rich Godiva chocolates.
5. Justin Cabernet Sauvignon Gift Basket

We have customized this Justin Cabernet Sauvignon Gift Basket and will deliver it safely with a personalized message shared by you. This gift basket is refined and a perfect suit to your gifting needs.
6. Josh Cellars Gift Basket



Our handmade collection of Josh Cellars Gift Basket, personalized and customized as per your requirement. We deliver these gift baskets at your doorstep.
7. Silver Oak Alexander Valley Cabernet Sauvignon Gift Basket

Pay special attention to your loved one's occasion by gifting them a selective collection of Silver Oak Napa Valley Cabernet Sauvignon 2014 Gift Basket. The gift basket comes in a hard cardboard box, we decorate the box with yellow frills which gives it a glowing look.
8. Stags' Leap Gift Basket

Stags' Leap Gift Basket and make your gifting easy. Stags' Leap Gift Basket includes finest quality ginger biscuits, smoked almonds & much more. We decorate this gift basket for you with sunshine, glowing yellow colored frills.
How can one speak of wine gift baskets without highlighting the most famed and beloved wine and cheese pairings? That's why we present our most cherished wine and cheese gift basket, featuring Stags' Leap's unapologetically bold and luxurious Cabernet Sauvignon wine with a captivating charcuterie-like scene. Upon unwrapping, the recipient will discover finger-licking hefty tomato & basil beef summer sausage, a jar of stone-ground mustard, and three varieties of supple cheese, each beautifully nestled on a shredded base. This wine and cheese pairing is harmonious in a way that each item contrasts yet complements the others, making it perfect to wish "Merry Christmas" to a wine lover, a foodie, or someone with a penchant for BBQ.
9. Cakebread Cellars Cabernet Sauvignon Gift Basket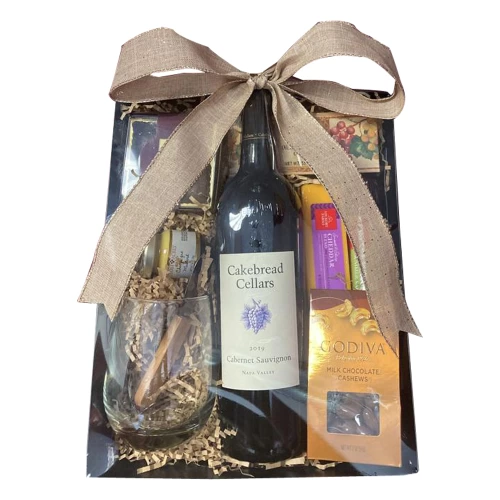 The gift basket is beautifully put together in a strong black matte gift box. It is then bedded with shreds of paper to make the arrangement tidy and to secure the items. A cute bow attracts attention, while the attractiveness of the box itself is difficult to resist. The centre piece of the basket is a cabernet from Cakebread cellars. It's a ruby-colored wine made from Cabernet Sauvignon grapes grown in Napa Valley, California. It emits an alluring aroma of black cherry, cassis, vanilla, and oak. And the palate is equally impressive with dark fruit, chocolate, and spice flavours.
10. Meiomi Pinot Noir Gift Basket

Discover the flavorful wine gift baskets, start from our Meiomi Gourmet delight gift basket and much more stored in for you. This lavish collection of Meiomi gift baskets is exquisite and also is food-friendly.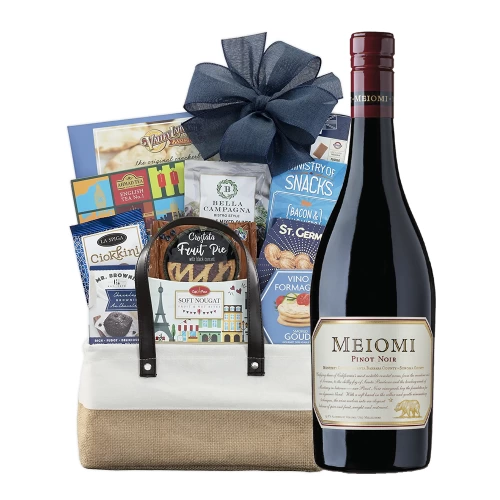 11. Ancient Peaks With Bon Appetit

Here is a cutest gift basket to refill Ancient Peaks with Bon Appetit Gourmet Gift Basket..

These wine gift baskets come with your choice of bottle of wine with a flavorful Godiva chocolate box. To ensure safe delivery of your gift basket we keep careful to pack the gift basket in such a way in which it gets no harm and is delivered safely.
You Can Also Consider some Popular Champagne Gift Basket
Dom Perignon And Godiva Black & Gold Celebration Basket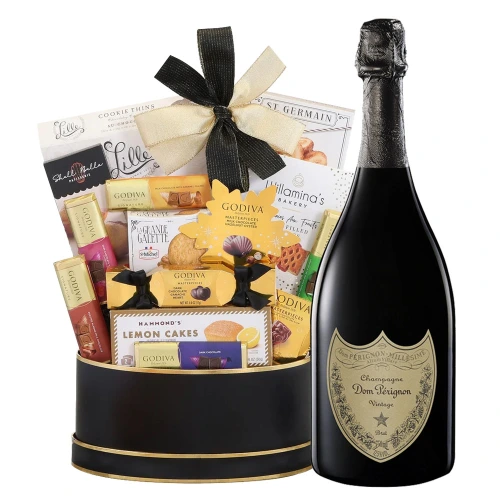 Now, taking a bubbly turn in our top Christmas wine gift baskets collection, we're thrilled to unveil our most regal sparkling wine and chocolate gift basket—an embodiment of luxury in every detail, from packaging to taste and overall magnificence. Encased in a breathtaking contrast of gold and black, a baller vintage champagne by Dom Perignon is elegantly paired with an extravagant collection of Belgian-styled chocolates by Godiva. Crafted uniquely as pretzels, truffles, bars, and ganaches, each chocolate piece boasts a multitude of flavors—caramel, honey, almond, and more—perfectly partnering the bubbly and its effervescence, taste, and elegance. Consider this indulgent gift if you're ready to splurge for a dear one, a bubbly lover, or someone with a sweet tooth. Who knows, they might save this beauty to toast the memorable New Year countdown.
Christmas Special Hand Painted Veuve Clicquot Champagne Gift Box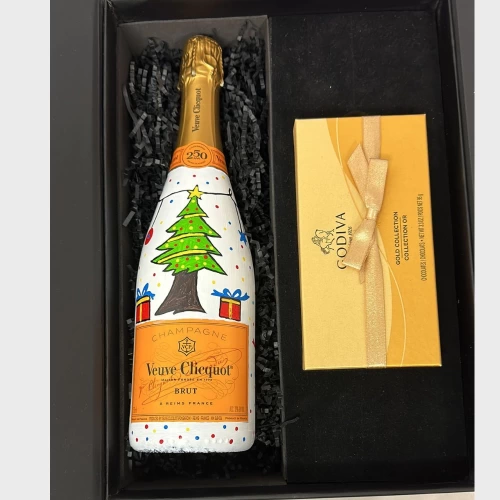 Personalized gifts are currently trending in the realm of gift-giving, and the Christmas Special Hand Painted Veuve Clicquot Champagne Gift Box stands out as a must-have this holiday season. Encased in a premium black gift box exuding regal elegance and boasting a silky texture and top-notch sturdiness from its quality material and intricate cushioned base, this set includes a beautifully hand-painted bottle of Veuve Clicquot Yellow-Label Brut adorned with Christmas motifs, from Christmas trees to confetti, gifts, and more. This Christmas champagne gift box cozily pairs the Christmas painted bottle alongside an 8-piece Godiva chocolate gift box. Ideal for recipients fond of creative touches and those who treasure cherished keepsakes, it makes for an exceptional Christmas wine gift.
Moet Nectar Imperial Rose & Assorted Godiva Chocolates Gift Basket

Are you still on the hunt for the refreshing magic of fruity roses? Hold that search as we present this awe-inspiring gift basket, thoughtfully pairing the globally renowned Moet and Chandon Nectar Imperial Rose with an array of differently styled, multi-flavored Godiva chocolates. This not only makes an ideal Christmas wine gift basket for any bubbly lover and sweet tooth but also impresses with its vibrant interplay of Christmas-themed colors and a chilly ambience on the carrier adorned with pine trees bathed in snow and a starry night. Moreover, if you're looking to greet that special someone, the rose and the red highlights of the basket add a romantic touch, making it a spectacular Christmas wine gift basket for him or her.
Factors To Consider For a Christmas Wine Gift Basket
Variety

Before clicking the buy button, consider the Christmas wine gift basket you're purchasing. Does it match the recipient's taste preferences, whether in wine, gourmet treats, or accompanying accessories? Will it complement the spirited vibe of their Christmas celebrations? Moreover, does it fit comfortably within your budget? By taking these minute yet crucial considerations into account, opt for a Christmas wine gift basket that ensures your gift-giving is thoughtful and impressively holistic.


Gift Basket vs. Gift Set vs. Gift Box

In our curated list of top Christmas wine gift baskets, you may find yourself drawn to the allure of Christmas wine gift sets and boxes, offering an extra touch of variety and versatility. In the ongoing debate of which gift selection should prevail, opt for Christmas wine gift baskets if you're aiming for indulgence and wish to surprise the recipient with an extravagant package at their doorstep.

However, if the recipient appreciates a more sophisticated pairing over extravagance, consider sending them a Christmas wine gift box or a Christmas wine gift set. These options typically include a wine or two along with modest additions like flutes or a box of chocolates, providing a refined and thoughtful gift experience.


Delivery

When selecting a Christmas wine gift basket from us, take a moment to consider the timing and cost of Christmas gift basket delivery. We offer hassle-free wine delivery and champagne delivery, ensuring the safe and punctual receipt or sending of your chosen presents within the USA. When placing an order for a Christmas wine gift basket, ensure to review the cut-off dates to seamlessly extend Christmas greetings to your loved ones.


Additionally, for those with time constraints or those who tend to give last-minute gifts, we provide Christmas gifts same day delivery in specific locations within the DMV area for an expedited shipping fee. To learn more about our shipping and delivery policies, click here.

Hassle free Christmas gift purchase
We understand and care for you, and also are aware of your stuck-up routines which gives you almost no time to purchase gifts. This gets more difficult when Christmas is around. As we said we care for you, visit through our Christmas wine gift collection and experience hassle-free online purchasing of gifts available with doorstep delivery.
By opting for this, you can gift the premium range of wine gift basket pairing with a rich chocolate box which is absolutely gluten free and made by using high quality products to your dear ones.
Frequently Asked Questions (FAQs):

What Do You Put In a Christmas Wine Basket?

A Christmas wine gift basket typically includes a wine bottle paired with gourmet treats like chocolates, cheeses, savory snacks, or even accessories like wine glasses or flutes to enhance the wine-savoring experience.

What Type Of Wine Is Good For a Christmas Gift?

Rich reds like cabernet sauvignon or Bordeaux blends are popular choices for Christmas gifts due to their rich flavors, but lighter options like Pinot Grigio or Prosecco can also be delightful, depending on the recipient's preferences.

What's So Special About a Christmas Gift?

Christmas gifts carry the spirit of giving, fostering connections, and expressing appreciation. They're a thoughtful way to celebrate the holiday season and show affection to loved ones through personalized gestures.

Can We Personalize Christmas Gifts?

Absolutely! Many Christmas gifts, including wine baskets, can be personalized by adding personalized wine bottles, choosing specific wines or treats tailored to the recipient's tastes, or even opting for specifically curated packaging or accessories to make the gift unique.


Final Thoughts
Wrapping it up! We hope this blog post featuring top Christmas wine gift basket suggestions fully assists you this holiday season, catering to your desired vinous pairings while ensuring impressive personalization, affordability, and accessibility. The best part? We offer full customization, allowing you to pair any wine bottle with your chosen gift basket, set, or box, adding a personal touch to your gift-giving experience.

So why wait? Buy Christmas wine gift baskets and sets online today, and here's to creating memorable moments in no time.

Cheers ✨

Also Read
9 Wonderful Christmas Gift Ideas for Your Co-Workers
How to Celebrate Christmas with Fun on Christmas Celebration?