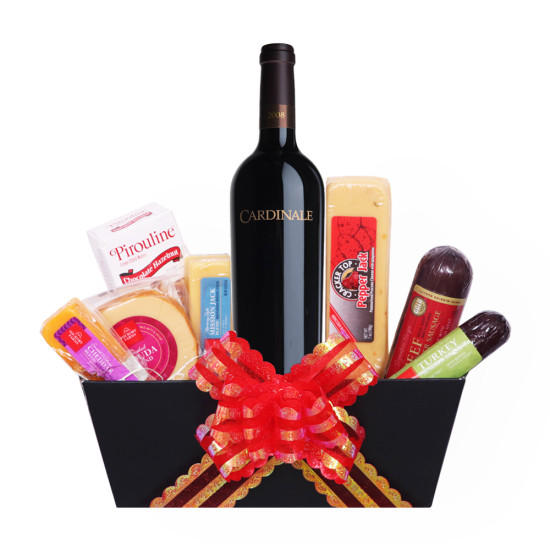 Cardinale Napa Valley Cabernet Sauvignon & Cheese Gift Basket
Stock:

In Stock

Model:

dcgb162

UPC:

784794001527

Cardinale
Cardinale napa valley cabernet sauvignon & cheese gift baskets
Our Cardinale Napa Valley Cabernet Sauvignon and cheese gift basket is the ideal present for anyone who enjoys wine, cheese, or both. It is the epitome of indulgence for wine and cheese lovers! Additionally, it is an excellent choice for significant events, such as birthday bashes, anniversary celebrations, and even housewarming parties.
This gift basket is stacked in a sturdy basket that is black in colour and has a trapezium-like structure. It features a bold cabernet by Cardinale Winery, which was established in 1982 and is now known for its baller wines.
The wine has a deep ruby hue and a complex aroma that includes hints of dark fruit, vanilla, spice, and oak. The wine has a full body, firm tannins, and flavours of dark fruit, chocolate, and espresso on the tongue.
Cardinale Napa Valley Cabernet Sauvignon is a wine that you can drink right away or let age for a few years. It is served here with a variety of other tasty treats that have been carefully chosen to go with it. There are chocolate and hazelnut-flavored wafers, two kinds of savoury sausage, and several kinds of cheese, including gouda, cheddar, pepper jack, and mission jack.
In general, this gift hamper is a true ode to scrumptiousness, and it is a perfect choice for greeting a recipient who desires the gifts they receive to have a gist of opulence in them.
Therefore, place your order for this gift basket immediately to relax in style and to help your family and friends do the same. We can help you receive and send this gift basket with the utmost care and promptness, and if any complications arise, we've got you covered!